Doing online research before you buy something or work with someone has become second nature, and that includes real estate and mortgage professionals. Your potential clients—leads and referrals—are researching you before you ever meet them face to face. Do you know what they're finding?
When someone types your name into Google, what comes up? Ideally, it's a rich profile complete with your contact info, website, and online profiles and reviews. If it's not this, it's time to build out your search profile. Here are the exact steps you can take to ensure your potential clients can easily find and research you and that you look as good as possible when they do so.
Why Your Google Search Profile Matters
You may say that SEO (search engine optimization) isn't part of your strategy. However, even if you're not focusing on SEO, your potential clients are still researching you online. You should still have a carefully curated search profile, regardless of your marketing strategy. It's an easy way to make a good impression on potential clients (or an easy way to make a bad one).
When someone Googles your name, they should see different profiles of you and/or your business. It's an opportunity to build credibility, show that you take yourself seriously, and look like the business professional you are.
How to Find Your Google Search Profile
First, Google yourself. If you have a common name (hello, John Smith!), you'll probably have to search "john + smith + real + estate" or "john + smith + mortgage." If your name is as common as John Smith, you may need to throw in your location, too. Ditto if you share a name with someone famous. If your name is Katy Perry, you're not going to show up on the first page of Google.
Use incognito or private browsing, if possible. You can also add '&pws=0' to the end of the search results URL to remove all personalization. Otherwise you may see personalized results that don't reflect what everybody else sees when they search for you.
Don't forget to do a Google image search while you're at it. You may be surprised what you find!
A Good Example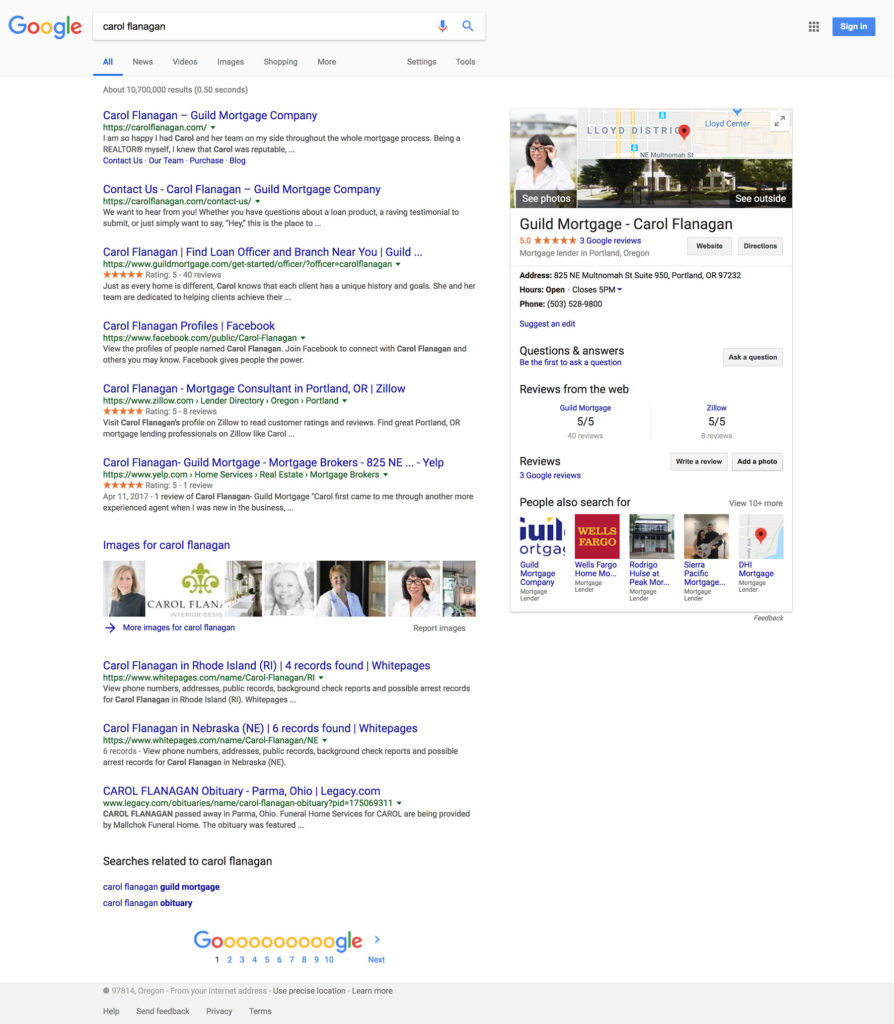 You want a search profile that looks like one of our client's, Carol Flanagan. She's done a great job of curating her online presence, and what you see is desirable for a few reasons.
Her website is prominent. In fact, it's the very top result when you search her name with Google.
Her Google business profile looks great. It's full of information that would be helpful to a potential client—phone, address, hours, and (good!) reviews from several places.
Other helpful things come up on the first page like her Facebook page and her Zillow profile. Her Yelp profile shows up on page two. It helps that her reviews are great!
What To Do To Make Your Search Profile Better
There are two potential ways your Google search profile can be less than ideal.
Your profile might just be lacking in information about you. That's a missed opportunity to make a good impression, and it's something fairly easy to fix.
You may see unflattering or even damaging information, and that's going to take a little more work. This is especially true if the information shows up because of someone else who has the same name you do. If they show up on the first page, you're going to want to take some quick action to make your Google search profile more desirable.
Here are some solutions to both of these problems, and you can choose the ones that seem most applicable to your situation.
Pick a Google Search Profile Keyword
Pick a search profile keyword that you want to start using on information about you that goes on the web. Options include your name, your name + mortgage or + real estate, or your name + your company's name. Be careful about that last one if you think it's possible that you'll move companies at any time in the future.
Use Google My Business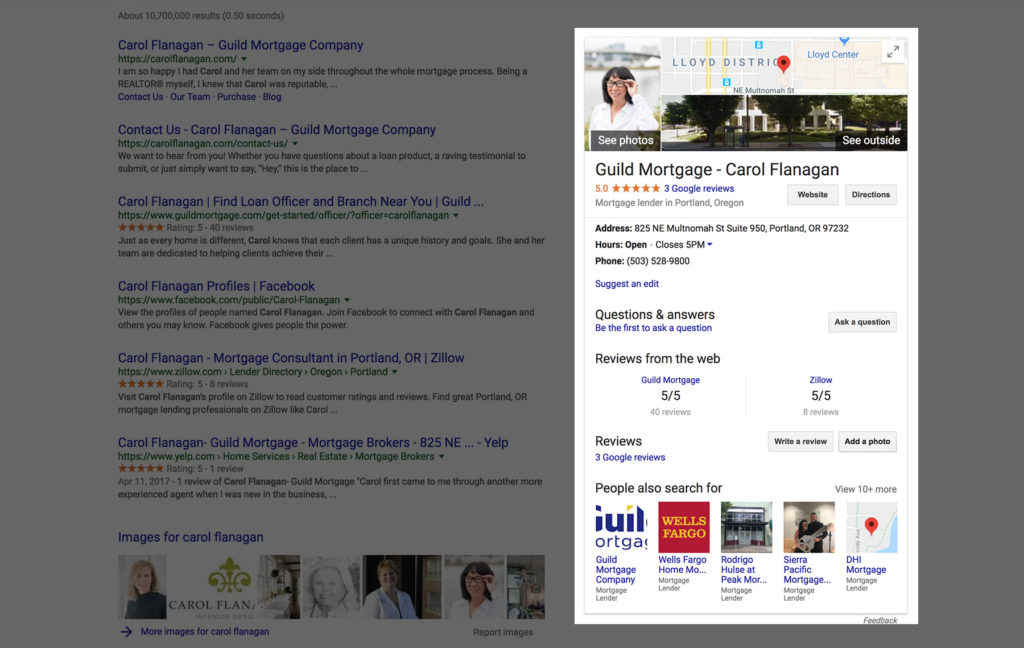 Google My Business is what shows up on the right side of the search results page. It lets you respond to reviews, add photos, and post updates about your business. You can also update things like your business hours.
To get started:
Go here and log into your Google account (or create one).
Add the name of your business.
Fill out your address.
Select your business category (Mortgage Broker, Mortgage Lender, and Real Estate Agency are all options).
Add your phone number and website.
The last step is to verify that you're authorized to manage the listing, done via a postcard mailed to the business's address.
That's it! It's free to sign up, and it also helps you show up in Google Maps.
Utilize Profile and Review Sites
Profile and review sites can help people get to know you and get to know what your business is like. Plus, they always show up on on or near page one of Google. In fact, you should actively manage your reviews and cultivate new ones—we wrote a helpful blog post about that here. Here are some of the major players you should work on.
LinkedIn: LinkedIn is one of those profiles you absolutely should have. It shows your professional history, skills, and expertise.
Yelp: Yelp is primarily a review site. But every business manager can set up a free Yelp account to post photos and messages to their customers.
Zillow: Your Zillow profile hosts reviews as well as a picture and a short bio, if you want. If you're a real estate agent, you can also connect your listings after you set up an account.
Facebook: If you have a Facebook business page, make sure it's up to date with all of your latest information. On the personal side, make sure you check privacy settings so that people who aren't your friends only see what you want them to see.
Also, if you want your personal Facebook page to show up in search engine results, make sure that option isn't turned off. To do that:
Go to Settings in the top-right dropdown menu.
Go to Privacy on the left menu.
Click "edit" where it says, "Do you want search engines outside of Facebook to link to your profile?" Check the box if you do.
Remove Unflattering Things
Remove anything that's unflattering and under your control. Images often come from Facebook and other social media sites.
If you're seeing results you don't like from message boards or forums, you may want to remove certain messages. You also may want to just remove your account.
If there are unflattering things you don't own or control, you can contact the website and ask that they be removed, but that's usually a long shot. That's especially true of news and public records. If you have negative items not under your control that you can't get removed, you may want to reach out to a professional reputation management company to help. Just Google reputation management and check some of them out.
Push Results Further Down
If there are unflattering search results outside your control—whether they relate to you or someone else with the same name—a good tactic is to push those results further down by creating things to take the place of those results. Here are some ideas:
Create a LinkedIn account if you haven't already. It's a great way to show your skills, interests, and expertise from a professional standpoint.
Buy your name's domain, if it's available. For example, I might buy sarahjacquier.com. It turns out that it's taken, so I might buy sarahrjacquier.com, which includes my middle initial. Then you can put some basic info on the site (or talk to us about one of our killer real estate or mortgage sites)!
About.me lets you create a little page that showcases you and links to social media channels you want people to check out.
Join relevant websites. There are thousands of websites and forums for professional organizations. Create a public profile and join in the discussion!
Changes Aren't Immediate
Last, just remember that change doesn't happen immediately. It may take a few days (or even weeks) for your work to show up.
We hope this helps you manage your search profile better! Creating and updating your search profile is part of Sidekick, our mortgage and real estate marketing product. Check it out if you're looking for a managed solution!