Feeling like you need to post more to your real estate social media page? You're right—you do. Social media is a great way to connect with your clients on an intimate level. If you're not doing that, you're missing out on an opportunity to stay in touch with your clients and get repeat business and referrals.
If you're like us, though, you see real estate social media being done the wrong way ALL. THE. DAMN. TIME. Don't post the stale, generic drivel we're all so used to seeing.
The whole point of using social media is for people to get to know, like, and trust YOU. The more they do, the more likely they are to 1) use you again when they want to buy or sell and 2) give you their referrals. How do boring, impersonal social media posts help people know, like, and trust you? They don't.
Since you're taking the time to post, make sure you're posting content worthy of a top-notch, professional agent. To help you out, we've looked at of real estate social media pages all around the country. And while it's true that there's a lot of bad, there are also plenty of agents out there who are doing some really clever things. Let's learn from them, shall we?
1. Buying Anniversary
Remembering the anniversary of a client's past home closing is a wonderful way to make previous clients feel like they're important to you. They'll like remembering that day, too. Plus, you'll get your name in front of their friends.
If possible, get a picture of the client(s) in front of the home or in the home (a photo from closing day will do.
Focus on the people in the photo and, if you can, how they're enjoying their home.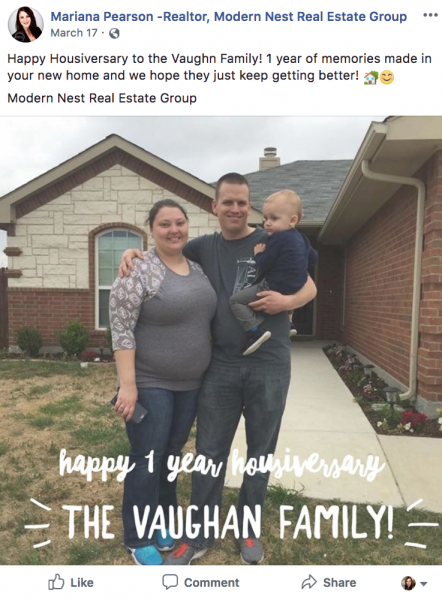 Source: Mariana Pearson
2. Client Appreciation Event
Throwing a client appreciation event? As long as it's not exclusive, blast it all over social media. And then make sure to share photos of the event after it's over! This the perfect social media post, and it's often overlooked. You get so busy working in the event that you fail to take photos at it. It's a smart move to put someone in charge of photos (or even hire someone) so you don't have to worry about it.
Make people the focus of the photos.
Tag clients in the photos (from your personal account), or ask them to tag themselves.
Send an email to everyone who attended, thank them again for coming, and ask them to check out the photos.
Give a shoutout to any other companies who helped with the event or provided supplies or food.
Encourage your clients to take their own photos and upload them to the event page or tag you in them.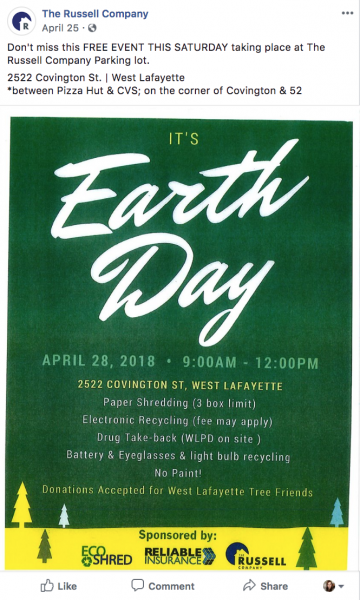 Source: The Russell Company
3. Client Closing
It's time to celebrate your happy clients! You've all worked hard to close on this home, so give everyone a shout out for making it happen. An important note, though: closing photos are frequently done and are often a complete snoozefest. Make the closing post memorable by including a few details about your clients, the transaction, or their new home.
For example, don't do this:
So happy for Jane and Joe Smith! Enjoy your new home!
Do this:
Jane and Joe have dreamed of moving to the Silver Springs neighborhood for years, but there just aren't many family-friendly homes available in that area right now. This mid-century beaut came on the market and we jumped on it (avocado green cabinets, brown shag carpet, and all)! Yes, they've got a little bit of renovating in their future, but they're up for it!
Don't forget to tag the lender, title reps, and anyone else who helped in the transaction.
Get everyone in the photo, and make sure to go to your personal profile and tag them.
Do a quick staging—remove water bottles and other unsightly objects. Really. It does make a difference.
Focus the photo on the people, especially your clients.
(We looked far and wide for the perfect closing post and couldn't find one. We like this one because the people look happy and are in front of their new home—we just wish it had a few more details.)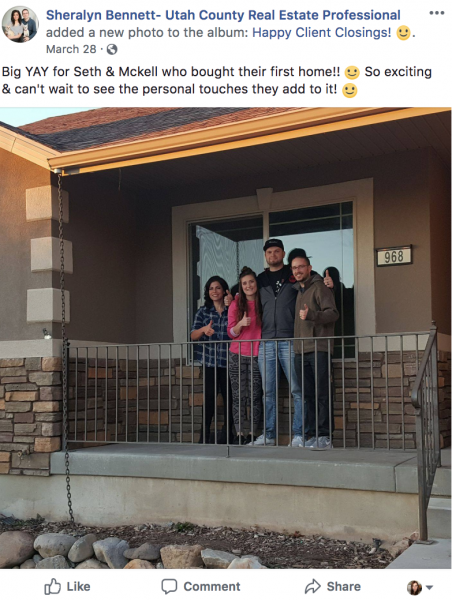 Source: Sheralyn Bennett
4. Client Testimonial
You can't brag about yourself, but you can let others do it for you. Let them tell others about how helpful you were during their real estate transaction. This the best way to build trust with potential clients and strengthen your brand.
Don't post the entire testimonial if it's long—just pick a line or two and then link to the full post on your website.
Create a little graphic, maybe with a nice photo behind it—don't just post text, which is easy to gloss over.
Include the client's name and city.
Tag the client in the photo from your personal account so their friends see it, too.
Don't post testimonials too often, and make sure they're broken up with plenty of other posts. And DON'T auto-post testimonials, either.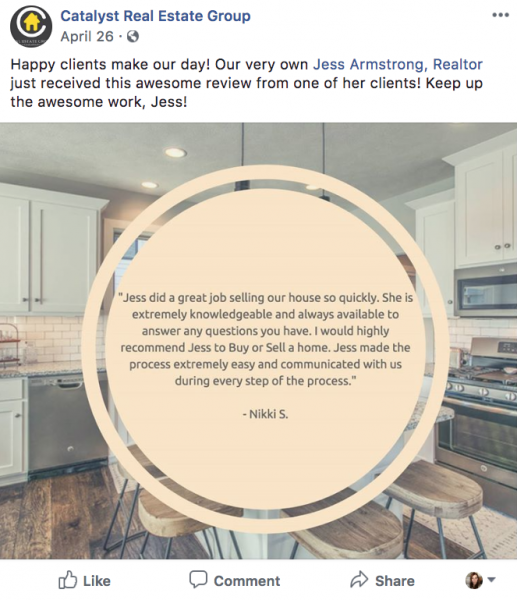 Source: Catalyst Real Estate Group
5. Community Event
Part of being a real estate pro is knowing what's going on in your local community. Sharing info about community events reinforces your persona as a local expert. (Social media aside, this is also a great reason to call your clients and a great way to meet new people!)
Share highlights of the event.
Share a little about what the event was for and why you enjoyed being there.
If the event hasn't happened yet, encourage people to find you there and say hello!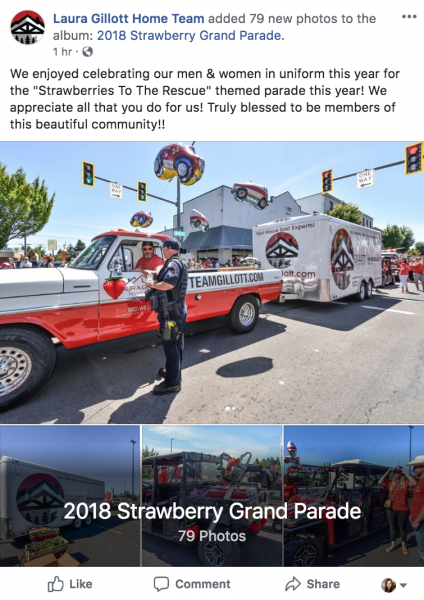 Source: Laura Gillott Home Team
6. Community Service
If you're like most agents we know, you're often helping out in your community. Sharing about the causes and organizations you care about is the best way to show people that you're invested in making the place you live a better one.
Share photos of you and your team in action.
Focus on the cause rather than yourself.
Include ways people can help if they're inclined to do so.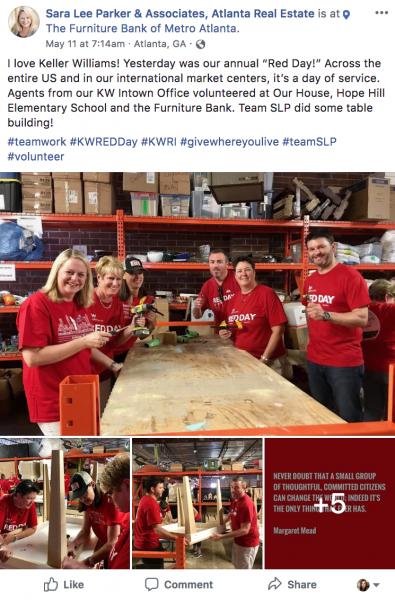 Source: Sara Lee Parker and Associates
7. Employee Spotlight
Do you have employees that are an important part of your team? This is the perfect way to help people get to know those around you.
Explain what the employee's role on your team is.
Have them say something about why they love working in real estate/on your team.
Use a professional photo of the employee.
Tag the employee in the post from your personal profile.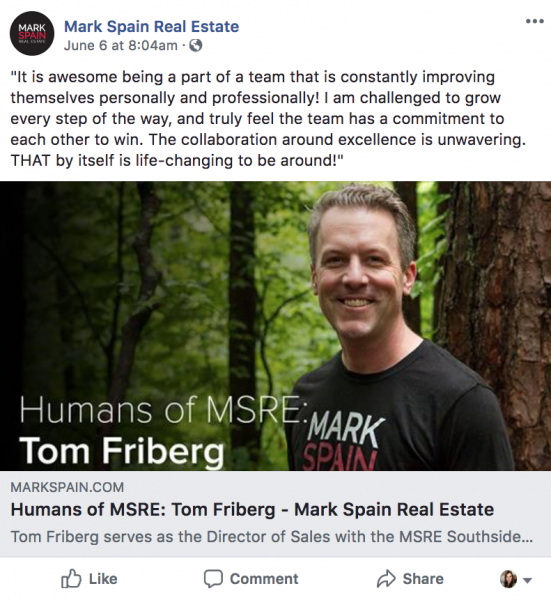 Source: Mark Spain Real Estate
8. Funny Holiday
There's at least one funny holiday for just about every day of the year. This is an easy way to share something lighthearted, especially if you add a joke to it.
Be sensitive to not share holidays certain groups of people may find offensive.
If this is a holiday that's being celebrated in the community, include some resources for people who want to participate (for National Donut Day, you could include some favorite donut places that are giving away donuts).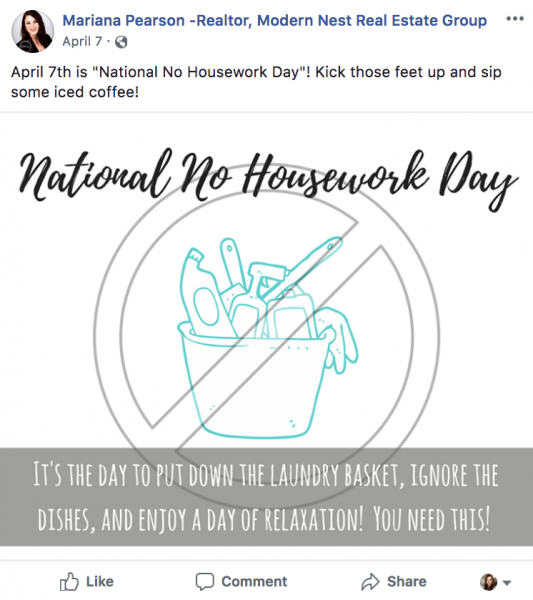 Source: Mariana Pearson
9. Holiday
Most companies remember to do holiday messages, but they're almost always stale and generic. (Can we just interject that we think Daylight Saving Time posts should be banned forever? Please. Just don't.) Take it up a notch by posting a beautiful graphic that makes people stop to think. You can even post a fun fact about the holiday—something that people may not already know.
Be sensitive to religious holidays. Be as inclusive to everybody as possible—different holidays are important to different people.
Make sure the post has some thought behind it. Adding a meaningful personal story about the holiday is a great idea because it helps people get to know you better.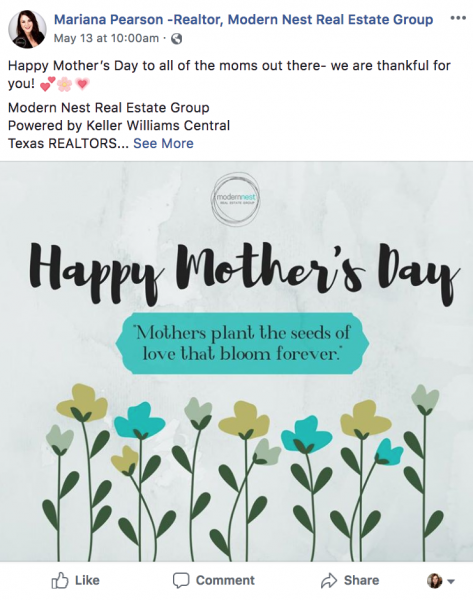 Source: Mariana Pearson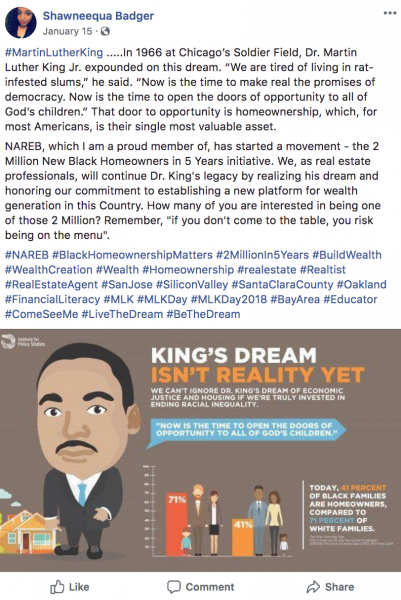 Source: Shawneequa Badger
10. Contest or Giveaway
Sponsoring a content or a giveaway? This kind of post is sure to get a lot of attention because everybody likes free stuff.
Make sure you follow the site's rules for contests and include a disclaimer. (See Facebook's guidelines here or this helpful article.)
Be very clear about what people need to do to enter or qualify for the prize.
Post a picture of the winner with the prize when it's all over.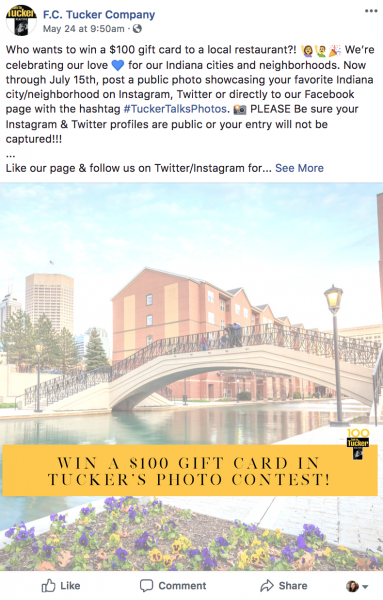 Source: F.C. Tucker Company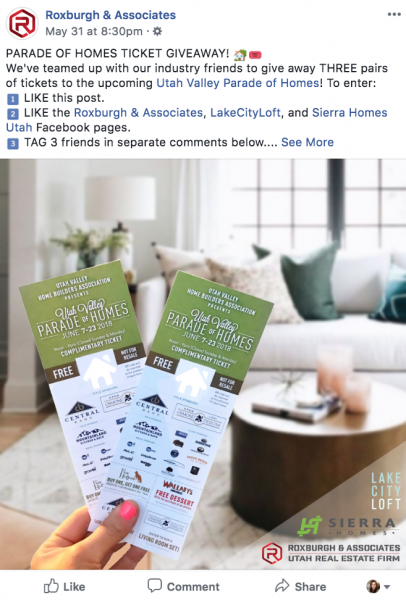 Source: Roxburgh & Associates
11. Most Expensive Listings
People love looking at über-expensive listings, even if they'll never be able to afford them. But linking to those listings from your website is a really good way to get them on your site looking at homes. Plus, you really never know who's looking for a luxury home.
Design some kind of graphic to go with the information.
Keep the text very light.
Give your perspective on the home.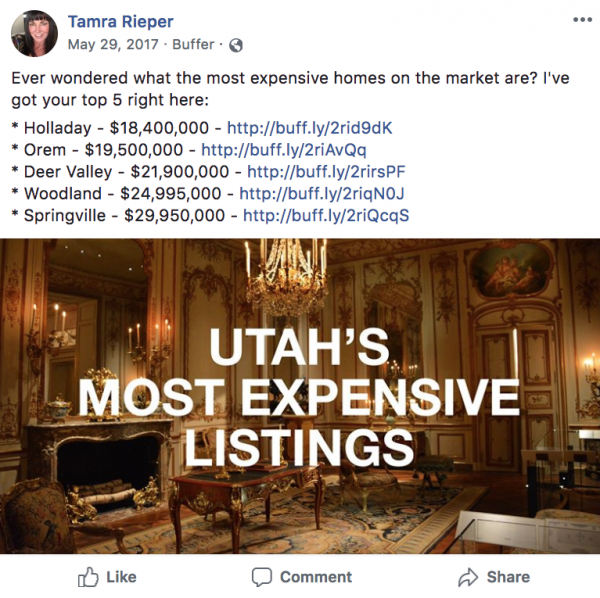 Source: Tamra Rieper
12. Happy Birthday (or Other Occasion)
Does someone in your office have a birthday? Remind people in your office of how great they are. If people on your team reach other important milestones, make sure to remember those milestones (having a baby, getting married, etc). Your followers love news like this because info like this is exactly why people are on Facebook.
Say something about why you're glad to work with the person.
Tell a little bit of the story, if you can.
Include a picture of the person, or even better, a picture of the celebrating!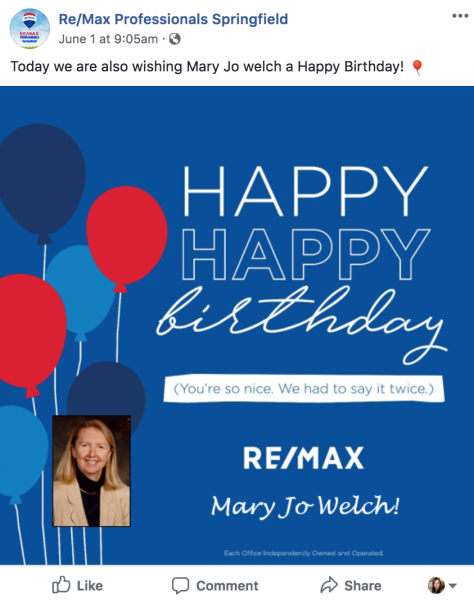 Source: Re/Max Professionals Springfield
13. Housing Market Info
You're a Realtor®, so it's time to show people that you know your stuff and are well-informed about what's going on in your local market. This is a key way to build your expertise. But it's also very easy to make these kinds of posts boring and inaccessible for people. To avoid that, tell people why those stats matter to them.
Don't use industry jargon that people can't understand.
Don't use too much text.
Link to the original source.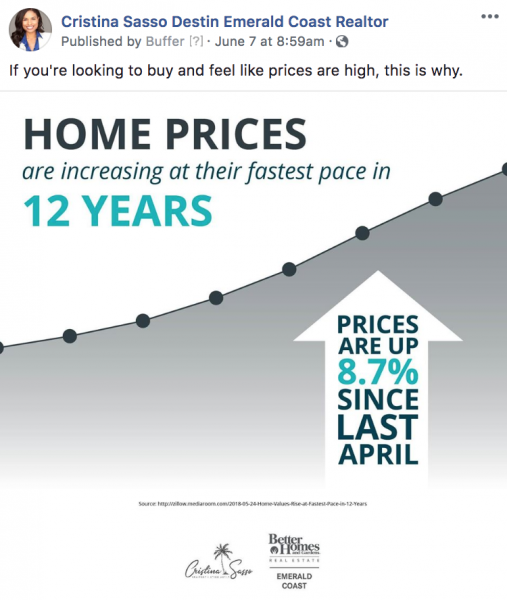 Source: Cristina Sasso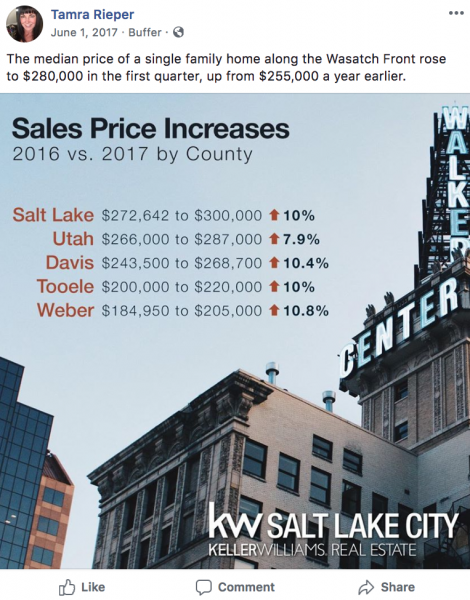 Source: Tamra Rieper
14. Just Sold
This is a common social media post, and to be honest, we don't care for them. BUT, we do think they can work if you tell a story about the closing. If it was an especially difficult home to sell or if it somehow helped a client fulfill a bigger dream, this kind of post can be a good one.
Don't:
Just sold this home in 1 day and made tons of money for my amazing client! We worked so hard to get this done and can't wait to help you next. Just call us at 999-999-9999, and we'll do all the hard work for you!
Do:
John got an unexpected job transfer in March and had to leave his home very suddenly. He was worried about selling his home from 2,000 miles away, especially in the dead of winter in a neighborhood where homes typically take months to sell. It took some unconventional marketing, but John's home sold in just a few months for $700,000, which freed him to buy his new dream home. We wish him all the best!
Include a nice shot of the home.
Include details, details, details! And don't just make it a humblebrag, mmmmkkk?
We looked far and wide for a great sold post, and we just couldn't find what we were looking for. We love the detail in this one and just wish it was a little less salesy.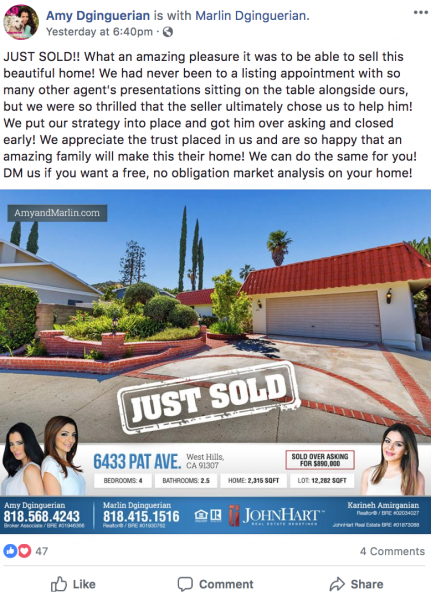 15. Buying/Selling Goals
Remind people that you're here to help them meet their home goals whenever they're ready to buy or sell. This is also the perfect opportunity to remind people that you're here to help their referrals, too.
Remind people specifically how you make their lives easier during a real estate transaction.
Tell them why it's a good time to buy/sell now.
Include a request for any referrals they may have.
Encourage them to take the next step by calling/texting/emailing/messaging you.
Don't post these too often. People don't want to be sold to all the time.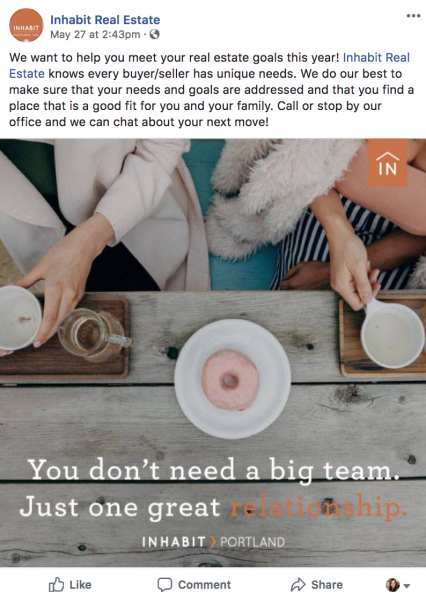 Source: Inhabit Real Estate
16. Helpful News or Information
Be your clients' go-to resource for helpful news and information. This could be local information, or it might be tidbits of info about buying or selling.
Stay away from polarizing topics (hello, political stories)!
Be a careful curator and only share things that you think people will be actually interested in reading.
If you're linking to an article, share bits and pieces of the story instead of just saying "Click here!" or "Read this!" or "Very interesting!"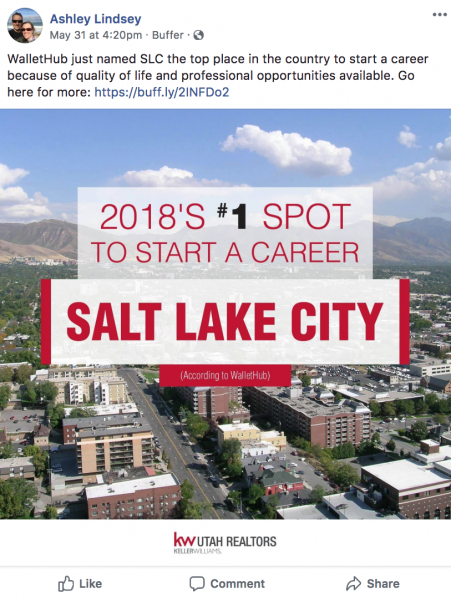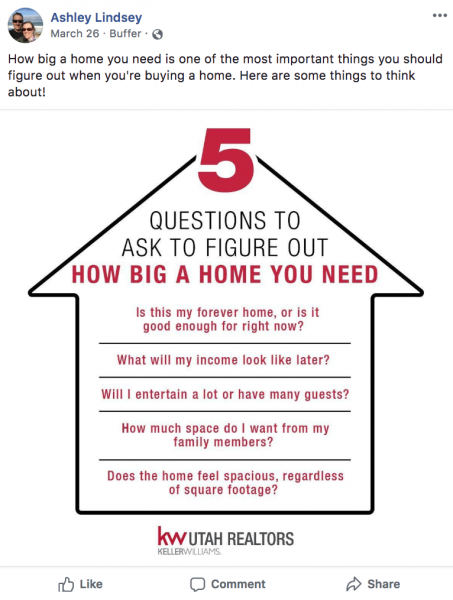 Source: Ashley Lindsey
17. New Listing
Bring some hype to your new listing (or a home that will be hitting the market soon) by sharing a few key details about the house. And inject some personality into it, OK? It's easy to do this by sharing your own perspective about the house.
Include an exterior shot and a few of the best interior shots.
Include the most important details, like number of beds and baths.
Include a link to the listing on your website.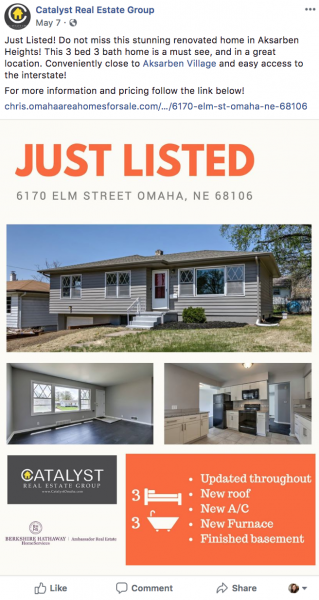 Source: Catalyst Real Estate Group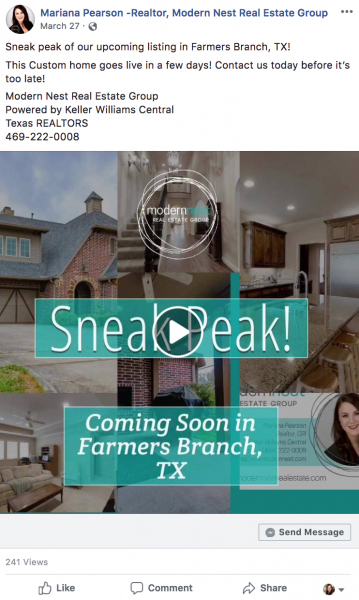 Source: Mariana Pearson
18. New Team Member
Got a new member on your team? Give your new team members a little spotlight with your followers.
Make the post all about the employee, not the company.
Include why they joined the company.
Include a few fun facts about the new employee.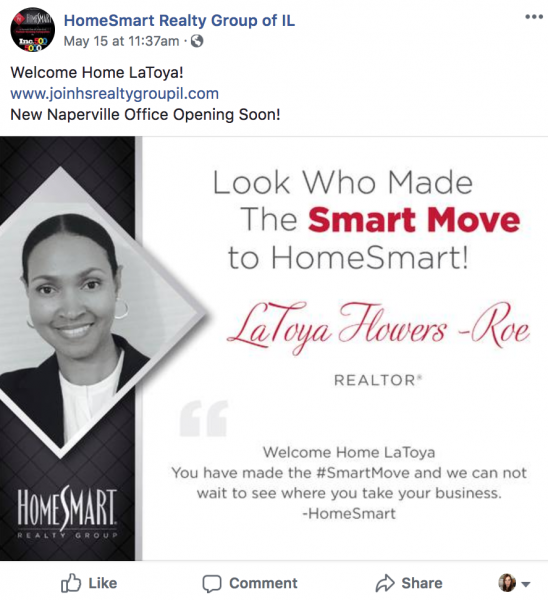 Source: HomeSmart Realty Group of IL
19. Open House
Having an open house at one of your listings? Make a quick post that people can easily share to drum up attendees. Make sure to highlight perks like the spread you're having or the lender who's co-hosting with you.
Keep it short and sweet—just include the key details like address, date, and time.
Include a few top pictures of the home.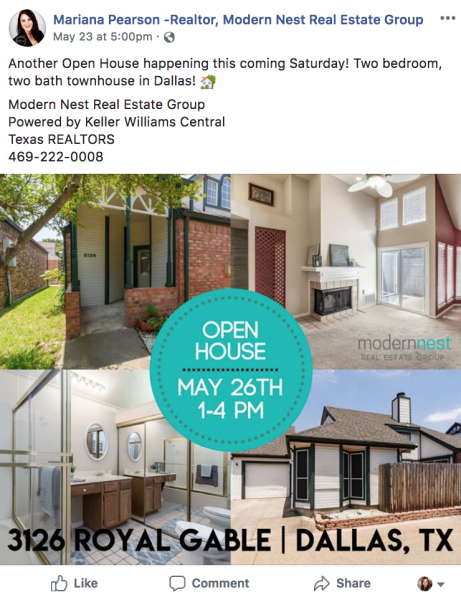 Source: Mariana Pearson
20. Partnership/Business Spotlight
Have a partnership with a local business? Or have a local business that you'd like to spotlight? Create a post and get some photos with everybody! You can also do something much less formal—if you're eating at a new restaurant, for example, snap a picture of your lunch and post about it.
Tag people from your personal profile, or, if they have a business page, tag the page.
Share a personal experience you've had with the company or tell the story of your partnership.
Add a Google Analytics tracking code to the website link so the business knows how many visits you've given them. (We have a post on this!)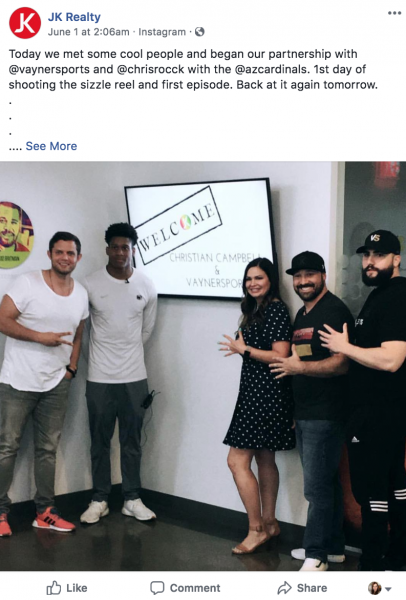 Source: JK Realty
21. Personal Post
Every once in a while, people love to see posts from your personal life. If you've reached a big achievement or milestone, share it! If you're going on vacation, share some photos.
Don't be afraid to be too personal. This is exactly why people get on social media.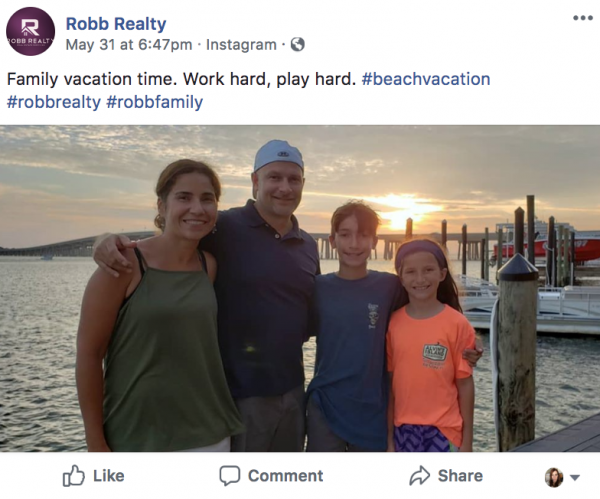 Source: Robb Realty
22. Quote
You've probably noticed how many quotes people share on Facebook. They're all over everybody's news feeds. Why not create one with your own branding for people to share? Also, don't share quotes too often—they lose their impact.
Include a picture of the person you're quoting, and make sure the person actually said it.
Don't put too much text on the graphic.
Stick to inspirational quotes about strength and motivation rather than weird, obscure quotes.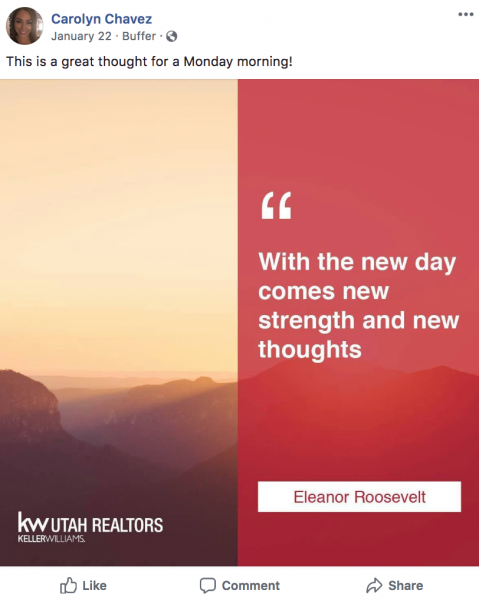 Source: Carolyn Chavez
23. Why Your Team is Different
If you and your team achieve something remarkable, make sure people know what makes your team exceptional. Show people exactly why you're different. Refrain from being braggy and focus instead on hard work.
Include exact numbers, if possible.
Tell people why they should care about what you're telling them. If you sell homes in an average of 20 days, show how much faster that is than the market average.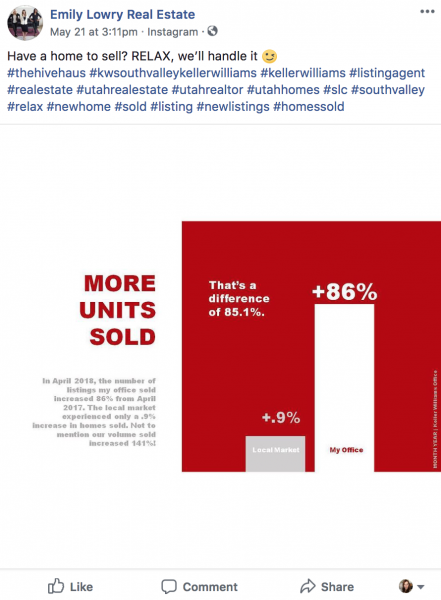 Source: Emily Lowry Real Estate
24. Team Recruiting
Hiring a new agent? Looking for a new agent? Tell people exactly why they should be excited about the prospect of working with your team.
Link to the job posting online.
Use an image of your current team.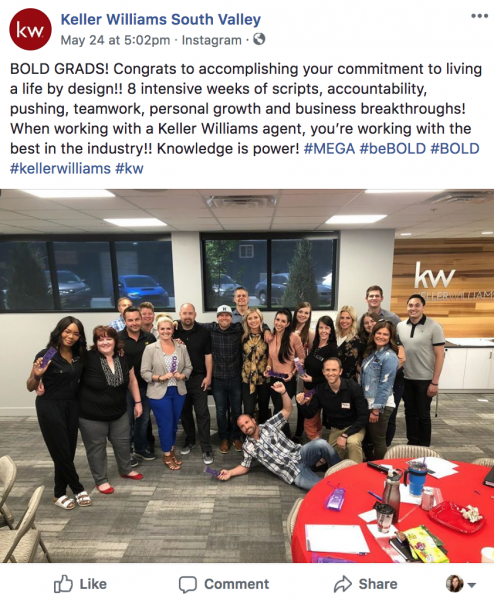 Source: Keller Williams South Valley
25. Thank You
As a real estate agent, you're probably often the recipient of kindness from businesses and other people in the community. When you receive a gift, take a quick picture of it and post about it.
Tag the person (from your personal profile) or the business in the post.
Tell people how you enjoyed what was brought in—or better yet, show how you enjoyed it with a picture.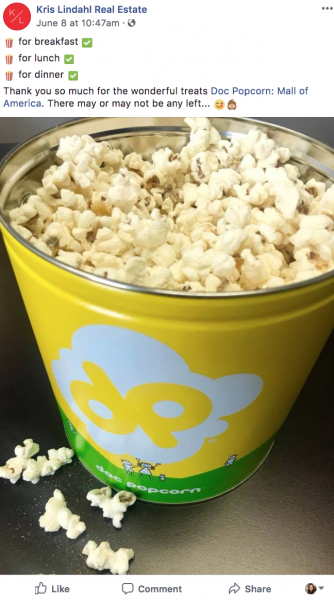 Source: Kris Lindahl Real Estate
26. Blog Post
You should always, always, always cross-promote your other marketing. You should also direct people to your website whenever you can.
Make sure your website's blog has Google Analytics installed so you can track visitors and their behavior.
Design a relevant piece of content to go with the blog post, and add a status that is so irresistible that people want to click.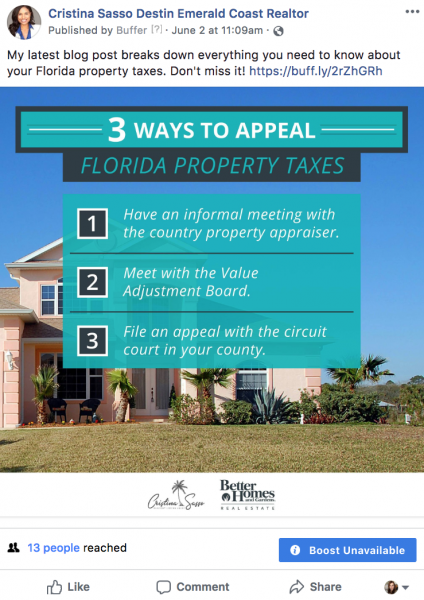 Source: Cristina Sasso
27. Fun Fact
Fun facts are good way to break up all real estate talk, all the time. People like to read them and share them, too.
Consider sharing a fun fact that's about your local area.
Include a relevant, high-quality photo.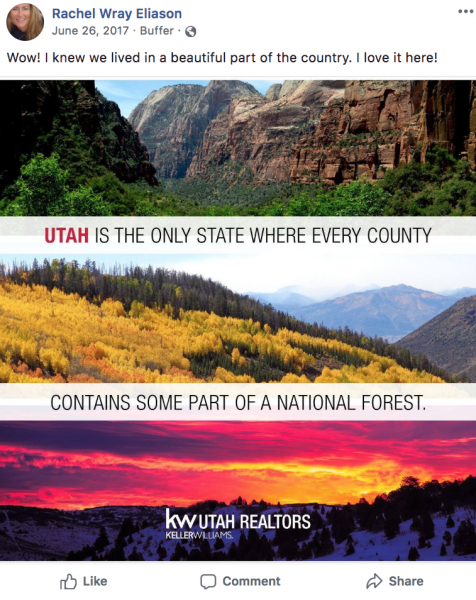 Source: Rachel Eliason
28. Local Market Listing
Sharing a competitor's listing that you really love is a good opportunity to possibly help one of your clients. Plus, people always want to see hot listings, and you never know who might be interested.
Share listings from a variety of agents and brokerages.
Link to the listings on your own website.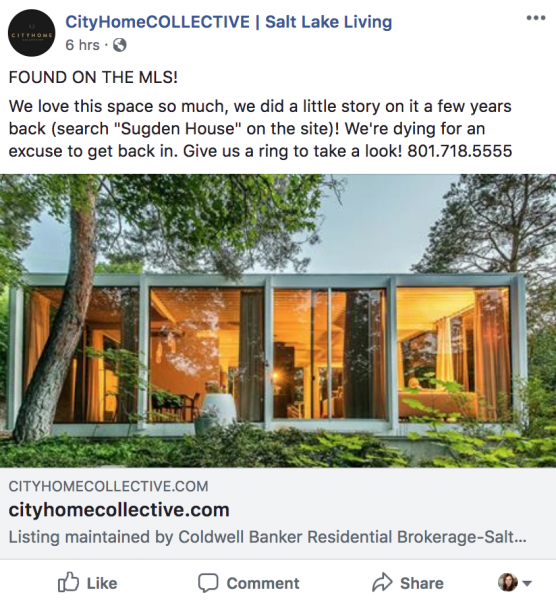 Source: Cityhome Collective
29. Company News/Events
If you're attending a company event, make sure people know about it. Posts like these build your prestige and expertise.
Include other employees, if possible, and tag them from your personal account.
Share a little bit about why you love working for your company.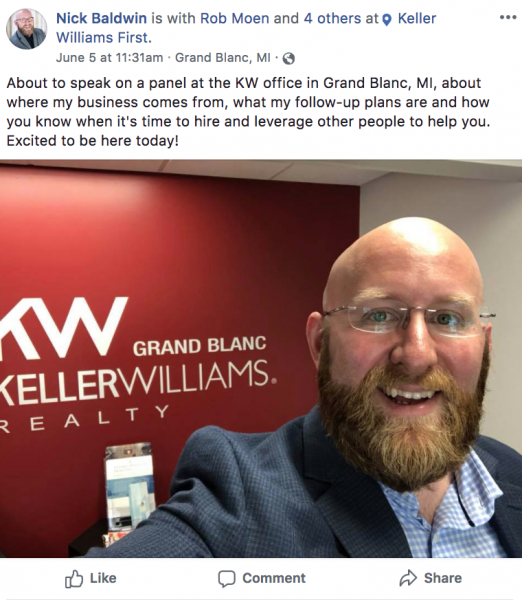 Source: Nick Baldwin
30. Memes
Memes are all over Facebook, and there are so many good real estate ones to share! They're a really good way to remind people about what you do in an approachable, human, and non-pushy way.
Just have fun with these!
Ride the wave of relevant memes as they pop up on social media (like Laurel or Yanny, which has caused some vehement disagreement here at TLC, by the way).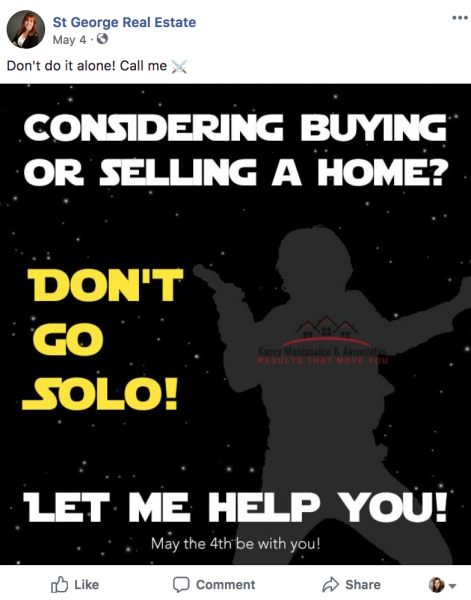 Source: St. George Real Estate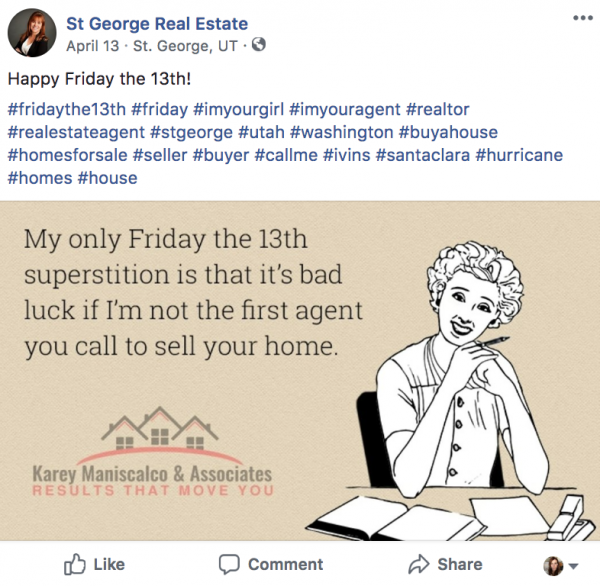 Source: St. George Real Estate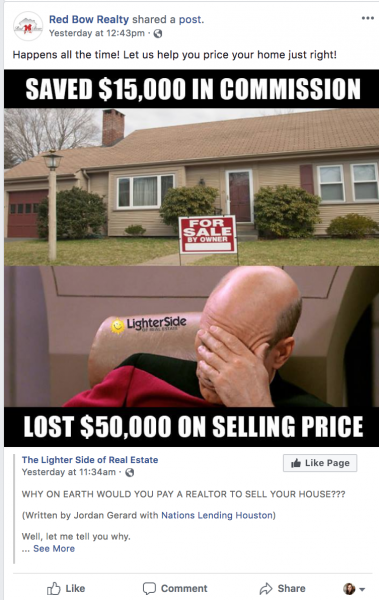 Source: Red Bow Realty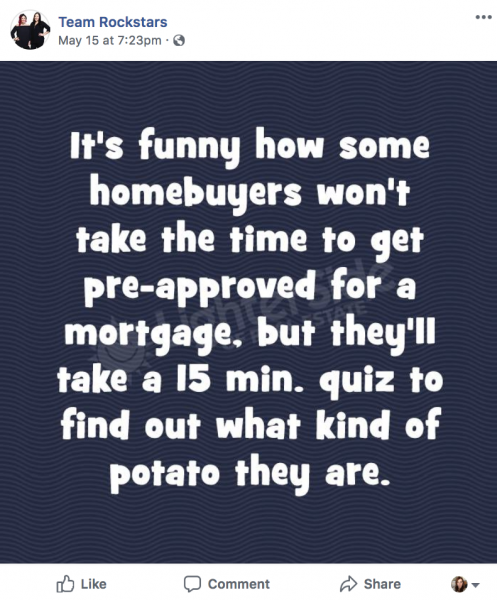 Source: Team Rockstars
31. Local Throwback Thursday
It's so much fun to see old pictures of your community. Plus, many of these are part of archival projects and are easy to find and can be used without worrying about copyright.
If possible, give people some context for the photo.
If possible, give a year or approximate year.
A side-by-side comparison of how the area has changed is always fun to see.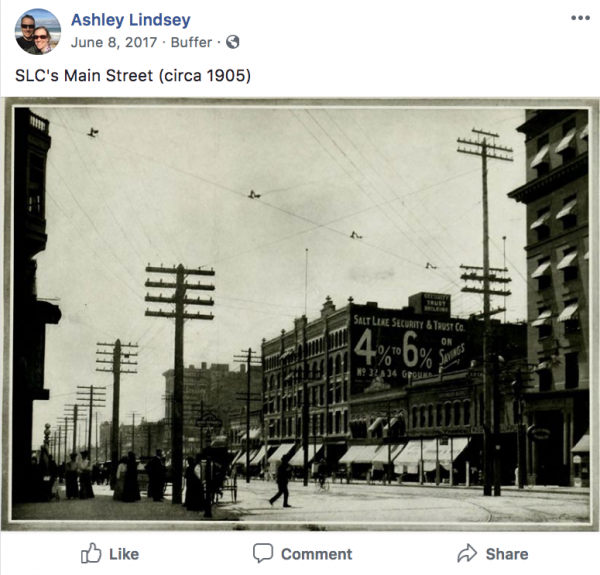 Source: Ashley Lindsey
32. Your Own Home
If you're going through the process of buying or selling your own home, talk about it with your clients! This is the perfect time to relate to them and all the emotions they go through when they buy and sell.
Share details about why you chose to buy or sell your home.
Document the process along the way.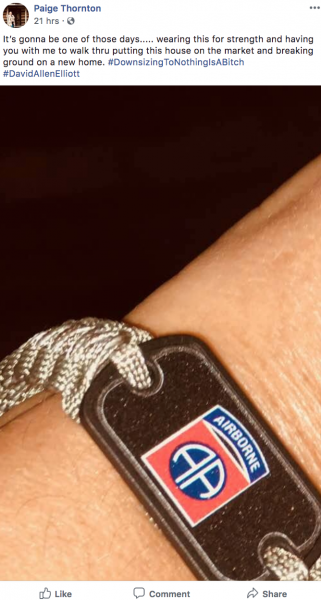 Source: Paige Thornton
33. Animals
Few things get more shares on social media than pictures of animals. You can share pictures of your own animals or somebody else's—a client's or a neighbor's.
Tie the post into real estate if you can (if not, it's OK).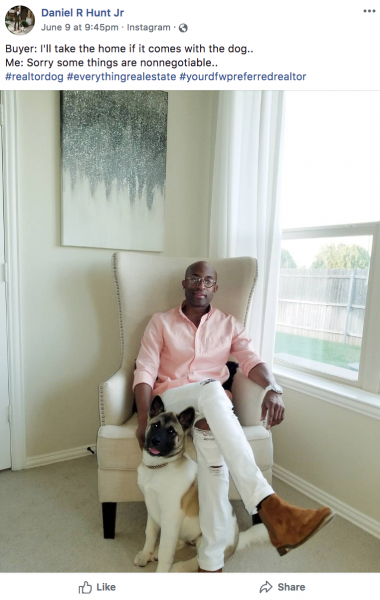 Source: Daniel R Hunt, Jr.
34. Real-Life Work
It's always fascinating to see how people work in real life. And since Realtors® work such crazy hours and often work from different places, show people what you're doing!
Snap a picture of your work space—coffee shop, home, office, or even the park.
Tell about some of the cool things you get to see and places you get to go as a Realtor®.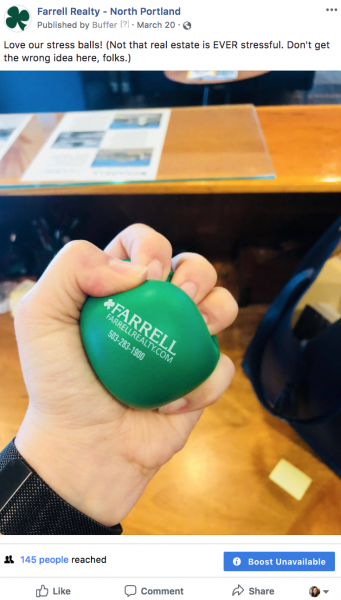 Source: Farrell Realty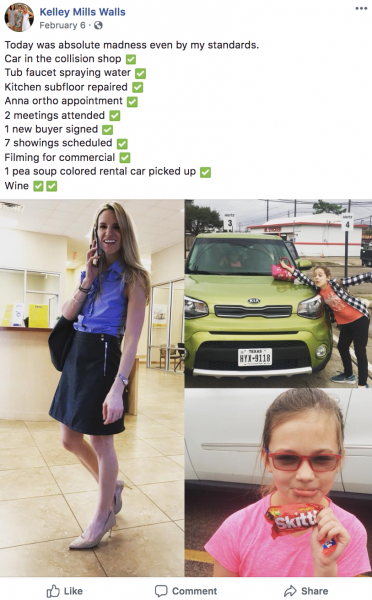 Source: Kelley Walls
I hope this list makes it easier for you to come with top-notch real estate social media posts. If you need a little help with some of these, give us a call!
Sidekick, our real estate marketing product, comes with beautifully designed, branded social media that we share to your social media accounts for you. It's really that easy.