You probably think one of two things when you think about your mortgage marketing. Either you immediately cringe or you think, "I am so damn good at this!"
Whether you shuddered or praised yourself, there is always room for better marketing, which leads to more business.
Here are 20 FRESH ideas ways to boost your mortgage marketing right now.
Video Mortgage Marketing: So Important, it's in a Category of its Own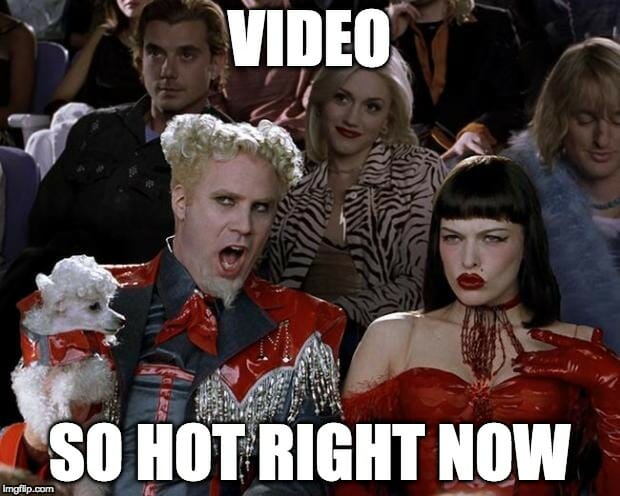 Video is so hot right now. It's impossible to talk too much about the good it can do for your business. It's the perfect way to reach a lot of people in a way that feels personal.
[highlight icon="fa-video"]Did you know that Facebook prioritizes video? Most people are a lot more likely to watch a video post than they are to read a text post (tasty video, anyone?).[/highlight]
But it's hard to know exactly what kinds of mortgage videos people will find useful and interesting. (Yes, they do exist!) Here are few ideas we love.
Idea #1: Mortgage Steps
Film a video for each of the steps clients go through when they get a mortgage with you. Clients always want to know more about what's coming up during the home-buying process. You can email them each video as they complete the previous milestone.
Idea #2: Happy Birthday
People love it when others remember their birthday, especially when it's someone they don't expect to remember it (like their loan officer). Film a quick, informal video and email it out to people on their special day.
Idea #3: New Programs
If you have a new loan program, film a quick video about it. It's a much more interesting way to tell people about it than say, posting or emailing people a flyer. Whatever you do, please don't ever post a flyer on Facebook.
Idea #4: Frequently Asked Questions
You likely get many of the same mortgage questions over and over. Film quick, informal videos to answer these common questions. They're useful to people and are a chance to show off your mortgage expertise.
Idea #5: Video with Another Expert
Bring in an expert and film a video together. That person could be a title company rep, a local REALTOR®, a home stager, or anybody else who might have something interesting to say to your audience.
[highlight icon="fa-newspaper"]Don't miss this helpful post with seven ways to make your videos look better. No professional videographer required.[/highlight]
Mortgage Marketing that Builds Relationships
Your past clients are a powerful source of business when you cultivate good relationships with them. They bring you repeat business, and they also recommend you to their families and friends. 85% of mortgage business comes from referrals, so you can't afford to neglect these relationships.
Idea #6: Segment Your Database
First, clean out and update information in your database. People who switch jobs may have new email addresses. I'm always surprised by how many email addresses don't work when we go through our database. Check phone numbers and addresses, too. Update as much contact information as you can.
Pro Tip: Use LinkedIn. I've been really surprised lately how much I'm using LinkedIn when updating our database. AND if you use a CRM like PipeDrive or Active Campaign, they'll search and automatically update your contact record with social profiles and info. It's reaaaallly cool.
Next, segment the people in your database into types. If you have renters, put them in one section. If you have people who invest in commercial real estate, put them in another section. Don't overwhelm yourself and go crazy, though. Pick a few main ways to segment and a few options, and stick with that for a while.
[highlight icon="fa-users"]We suggest starting with renters vs. owners and purchase vs. refinance. You could also segment by some demographic info like income or age.[/highlight]
When you segment your database, you can market to people with the information they need and want to hear. Someone who's renting has no interest in refinancing, so an email about refinancing isn't going to help them. It might even make them want to unsubscribe.
Idea #7: Give Client Appreciation Gifts
Everybody likes getting surprise gifts, and it's especially surprising to get a unique or useful gift from a loan officer. It's a great way to stand out from your competition. Here are some fun ideas:
Christmas trees
Valentine's bouquets
Thanksgiving pie and delivery
Spring cleaning supplies in a bucket
If you have a common local event or activity, you can give away things people will need for the activity. If it's floating the river, you could give away floating tubes and water shoes. If it's going to the beach, you could give away umbrellas and towels.
Pro Tip: Think big here. This is something to really "wow" them. You will likely only do this once a year and you may only pick your A clients. Just go big or go home.
Idea #8: Host a Client Appreciation Event
What's more fun than a free party? It's really the ultimate way to connect with people in a way that they're very likely to remember.
Weekend Donation Pickup: Rent a U-Haul and offer to go by and pick up anything that clients want to donate. These items could then be donated to a local charity or taken to Goodwill.
Earth Day: Have a day where people can come to your office to shred documents, get rid of prescription drugs, and recycle old electronics—taking care of all those little annoying tasks all at once!
Championship Game Day: If you have a local sports team playing a championship game, have a viewing party! Or tailgate the event and invite your clients to stop by! (You need great food at this kind of party.)
Movie Night: Rent out a movie theater. The cool think about this is that you can attract different groups of people with different kinds of movies.
Or you could always host a country music festival like this awesome team did!
Idea #9: Provide a Yearly Mortgage Checkup
This is the perfect reason to meet with each of your closed clients once a year. You can review their info to see if they can drop their mortgage insurance, get a better interest rate, or cash out some money for home improvements.
Mortgage Marketing Content That Helps People Remember You
Content marketing is what keeps your name in front of clients again and again. People can't refer you if they don't remember your name. That frequent reminder that you're still there and are still doing mortgages is all it takes to get a referral or repeat business.
Idea #10: Plan Out Your Blog Posts
First, it's almost impossible to blog consistently if you don't have a content calendar. Plan out ideas at regular intervals (we like to do it quarterly) so that when you sit down to write, the brainstorming is already done.
Then, just write about what you already know in a sincere and simple way. You can write about things like:
New loan programs
Changes at your office
Upcoming events
Local charities and businesses you support
Market updates
Frequently asked questions
Idea #11: Bulk Schedule Social Media
When you make lunch, is it easier to create one sandwich at a time, getting stuff out and putting it back, or is it easier to create five sandwiches at once?
The same goes for social media. It's easier to be a regular poster when you write five Facebook posts and schedule them at once than it is to write one post each day.
Use Buffer or another social media scheduler when you're planning your posts. You can easily schedule posts as far in advance as you'd like. You can also duplicate posts to other accounts in one easy step.
Pro Tip: Most social media schedulers have analytics info, which is really helpful for getting a big-picture idea of how people are interacting with your posts.
Idea #12: Create a Library of Free Checklists or Courses
Grow your email list by offering something for free in exchange for contact information. You'll be able to market to these people over the long haul, and eventually, some of them will become clients. (This is literally what we do.) Here some possible topics:
Improving your credit
Seasonal home maintenance
Projects that improve your home's value
Saving for a down payment
Documents you need to get a mortgage
Idea #13: Mix Online and Offline Marketing
When done right, postcards are a great return on your investment. We once tried to discontinue our postcards, and our clients revolted because they love them so much (and regularly get business from them). Needless to say, we still offer postcards.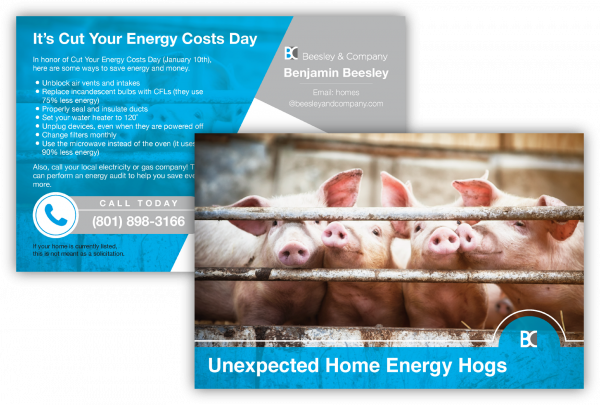 Eye-catching postcards include useful or entertaining information, are nice to look at (put a gorgeous photo on the front), and are short and sweet. Make sure your photo and contact information are prominent.
[highlight icon="fa-newspaper"]We wrote a great post on marrying your online and offline marketing. Check it out![/highlight]
Idea #14: Use Strong Calls to Action
In marketing, half of the battle is getting someone's attention. The other half of the battle is getting them to act on the information you've given them.
Encourage people to take the next step after they see something you've written or posted.
All of your email newsletters should encourage people to go to your website or email you back. All of your blog posts should encourage people to leave a comment, call you, download a value-add, or sign up for your newsletter. And many (but not all) of your social media posts should encourage people to call you, to comment, or to share the post with their friends.
Here are some ideas for generating strong calls to action for your mortgage marketing.
Good Mortgage Marketing Website Tactics
Idea #15: Install Site Tracking
With Active Campaign (and other CRM/marketing automation software), you can track lead behavior and then launch automations based off of what they do. For instance, if they fill out a landing page about refinancing, send them a series of emails about refinancing that encourages them to book a phone or in-person appointment.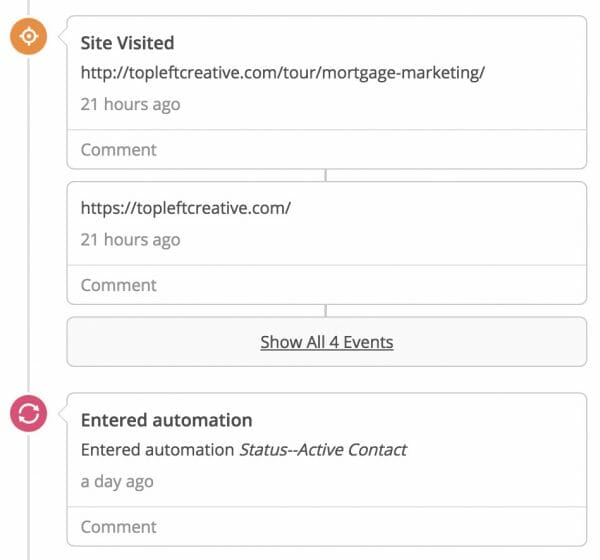 Idea #16: Track User Analytics
You probably know at least a little bit about Google Analytics, which tracks anonymous, aggregate data about the people who visit your website.
There are also much more powerful (but easy to install) ways to track visitor behavior. These methods tell you more about individual visitors, which means you can target your marketing even more.
We like Heap Analytics. There's also Mixpanel. Want to know where someone came from? What they did on your site? How they navigated? When they became a lead? These products tell you all this and more.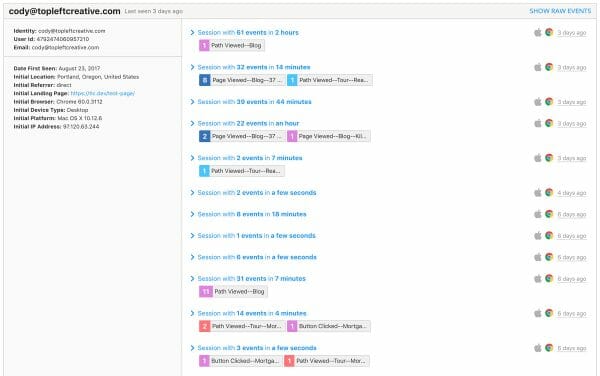 Idea #17: Use Offline Tracking
Ask every single new lead you get how they heard about you. Most of the time, they'll have at least a vague idea. And make sure your team is trained to ask this question. If you don't know how people heard about you, you don't know how to duplicate your success.
[highlight icon="fa-newspaper"]We wrote an entire article about tracking visitor behavior here.[/highlight]
It's extremely important that your home on the internet is as flawless as an Architectural Digest cover photo. These are things you must do to have a competitive mortgage website.
Idea #18: Make it Mobile Friendly
Websites that aren't mobile friendly are dinosaurs. Mobile web traffic rises every year, and that will only continue. If potential clients have to pinch and zoom to view your website, they're going to leave it very quickly.
Make sure your website plays nice on every device. (See what we did there?)
Idea #19: Make it Fast Loading
Any page that takes longer than five seconds to load is going to frustrate people (and most likely make them leave and look elsewhere for the info they want). You can check your website's speed here.
Some other easy things you can do:
Upgrade Your Hosting Plan
Don't Use Too Many Plugins
Idea #20: Provide a Solid User Experience
A good website has plenty of white space (blank space that helps divide your website into digestible pieces). Good websites also command attention by pointing people to where you want them to go.
Check out this article for more principles of excellent website design.
Need More Mortgage Marketing Help?
If you don't have the time to implement these strategies, give us a call or send us an email. We have one job: to make mortgage marketing easier for you.
In fact, Sidekick, our mortgage marketing product, does just that. He takes over your mortgage marketing so you don't have to lift a finger to be remembered by everyone that matters to you.