One of the key elements of using social media effectively is consistently posting to your company profiles. This is where most mortgage professionals fail because they simply don't have the time or creativity to come up with new posts. So, to help you, we've come up with 37 mortgage social media post ideas, with real-world examples, that you can use as inspiration for your own social media posts.
[callout_box icon="fa-cloud-download"]
Want Some BONUS Materials?!?
Get a list of tips to make each one of the post ideas we mention a winner every time!
[popup_button trigger="mortgage-social-media-ideas-popup"]GET THE BONUS LIST![/popup_button]
[/callout_box]
1. New Employee
Highlighting new employees is a great way to show the world your company is made up of real people. It also helps welcome the new recruits and gives them a little face time.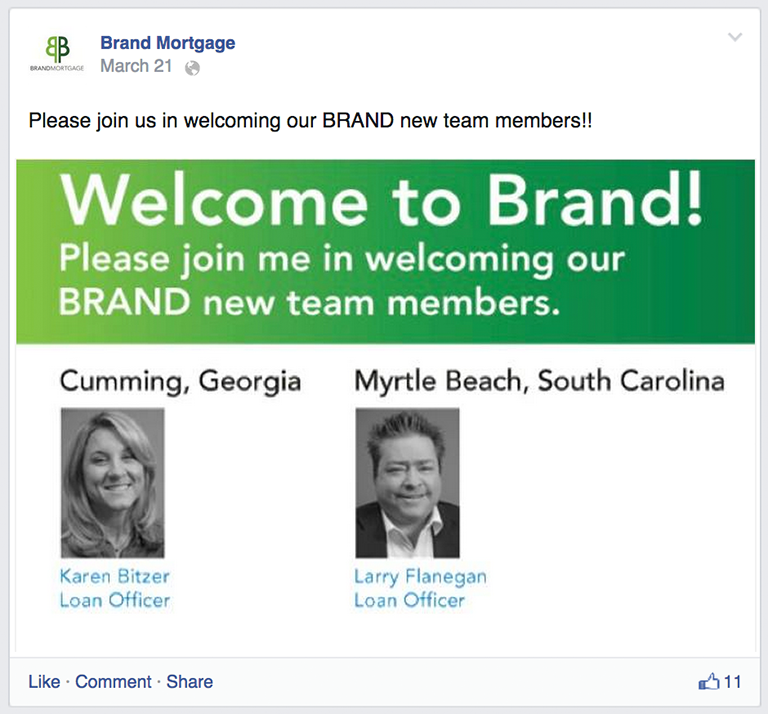 Source: Brand Mortgage
2. New Company Location
If you have recently moved, or have opened up a new office in a new city, let everyone know about it. You'll get the word out about your new market area and highlight the fact that your company is growing.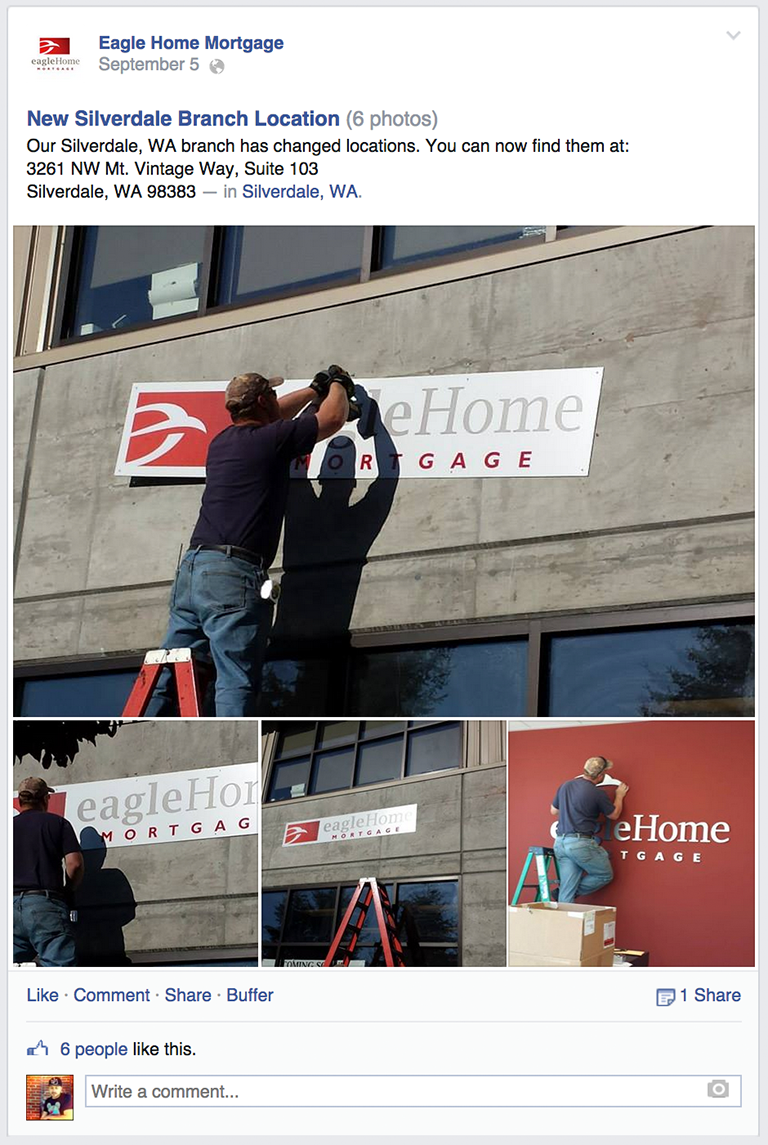 Source: Eagle Home Mortgage
3. Client Testimonial
The best posts are the posts where someone else is tooting your horn. Testimonials from real clients strengthen your brand, build trust with potential clients, and otherwise feel good!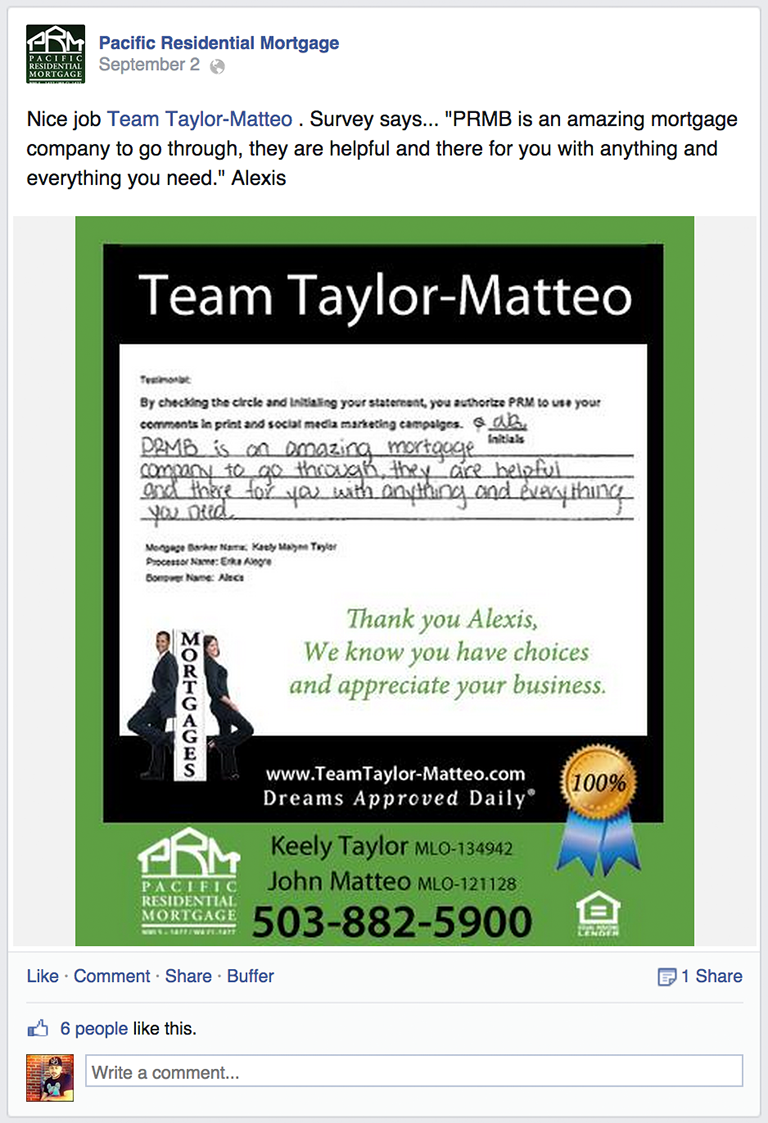 Source: Pacific Residential Mortgage
4. Client Closing
This is probably my favorite type of post: the client closing photo. Even if you can't be at the closing, ask your escrow officer or Realtor partner to snap the photo. There's no happier client than one who just closed on their home!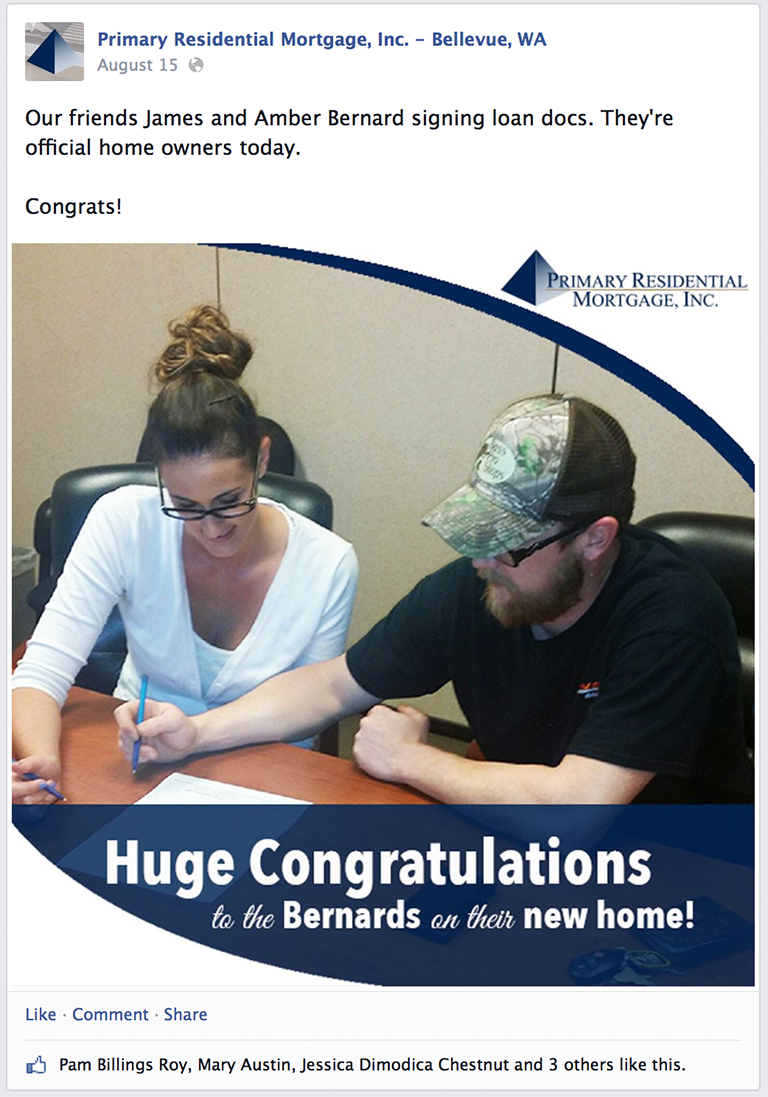 Source: Primary Residential Mortgage, Inc. – Bellevue, WA
5. Internal Company News
Let everyone know what's going on at your company. Give them sneak peeks into what it's like working for your company.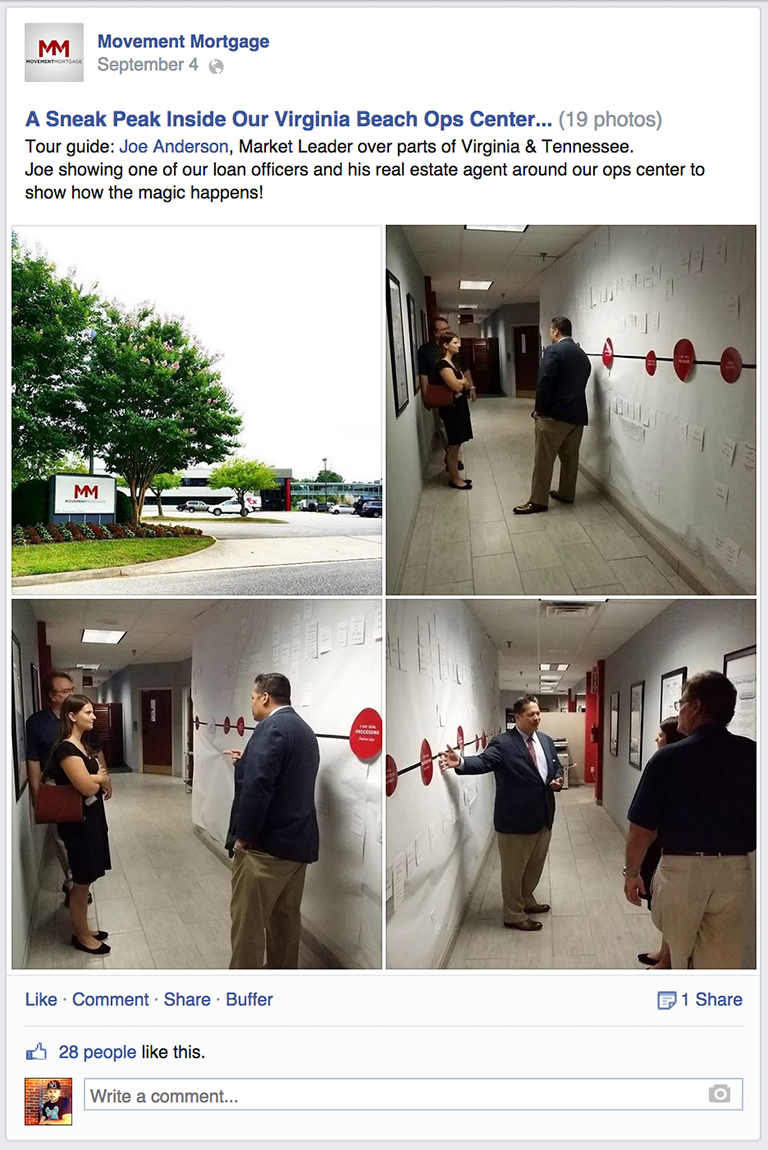 Source: Movement Mortgage
6. New Loan Product
Talking about a new loan product can be exciting. It can be a great way to pique the interest of a follower who has yet to become a client.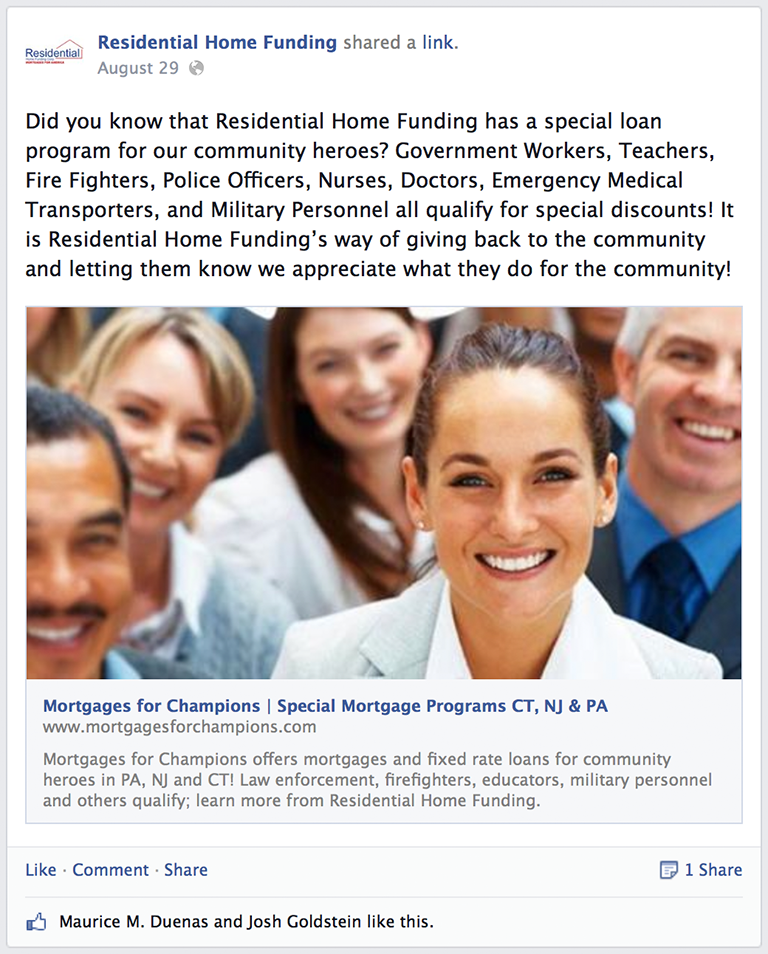 Source: Residential Home Funding
7. Mortgage Glossary Term
We often get so caught up in the teeny, tiny details of mortgage loans, that we forget most people don't know the most basic of terms and principles. Be a guiding light by explaining the terms found in any mortgage glossary.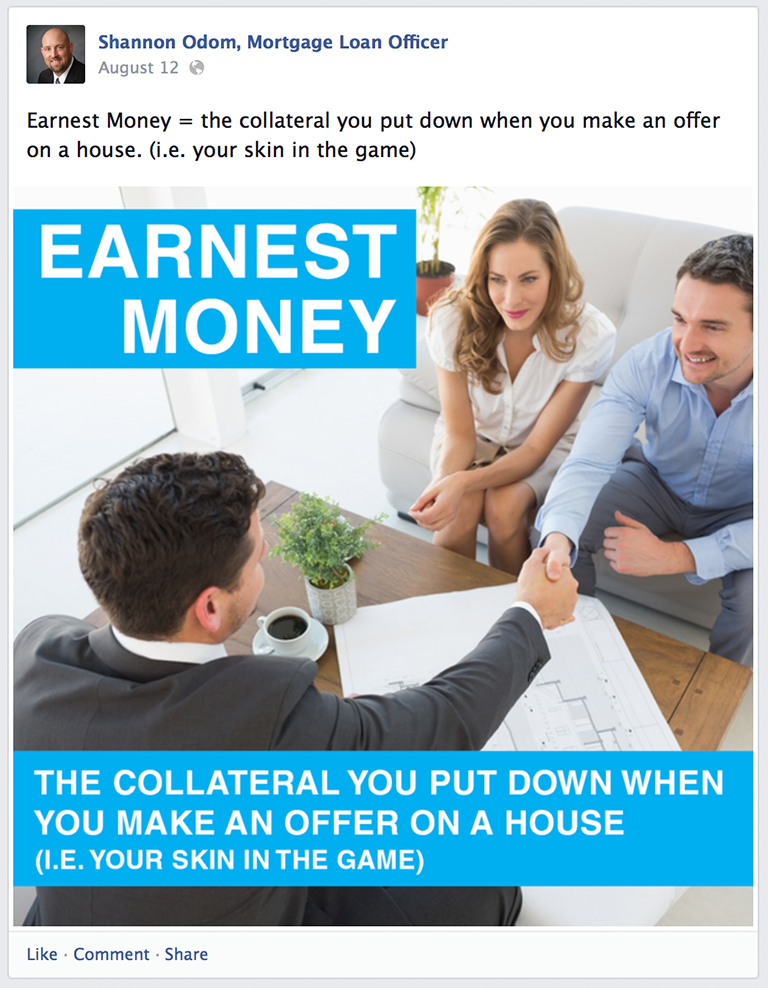 Source: Shannon Odom, Mortgage Loan Officer
8. Employee Spotlight
Similar to a New Employee Post, the Employee Spotlight does just that: highlights a current employee. These posts are great for introducing employees who work in ops and explaining what they do.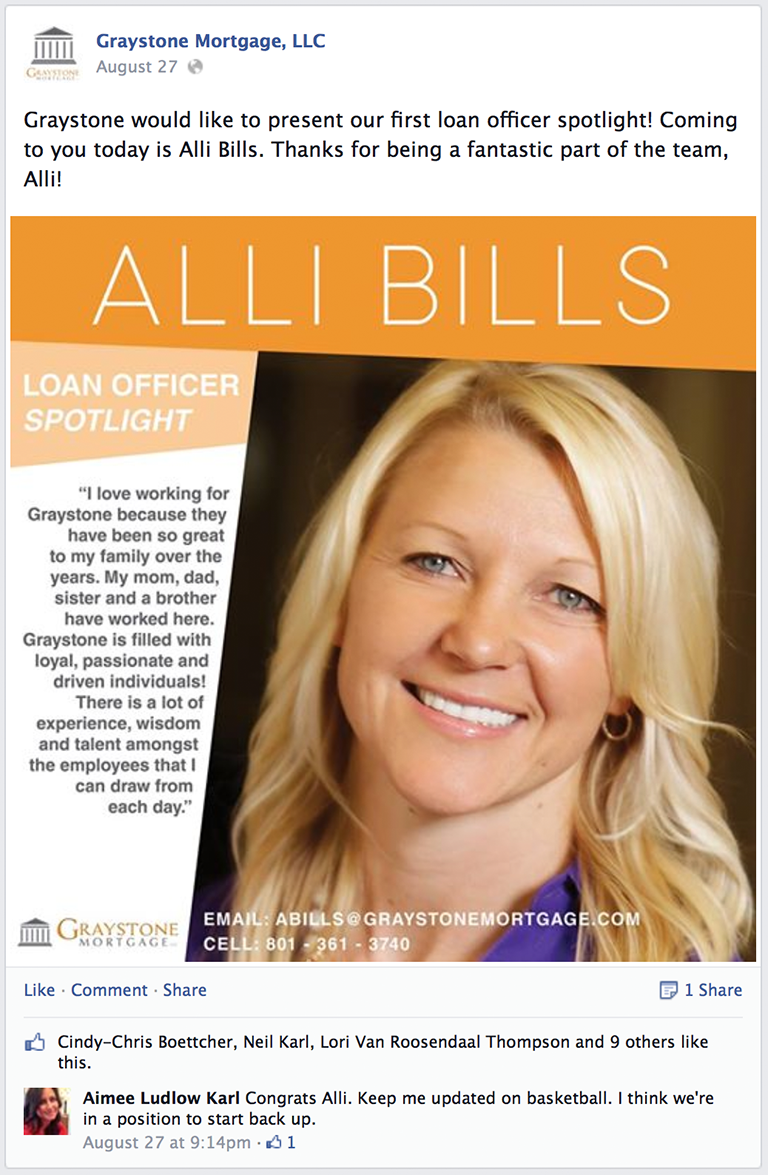 Source: Graystone Mortgage
9. Inspirational Quote
Not everything has to be mortgage, mortgage, mortgage. People love being inspired and encouraged. We find inspirational posts are often shared, too.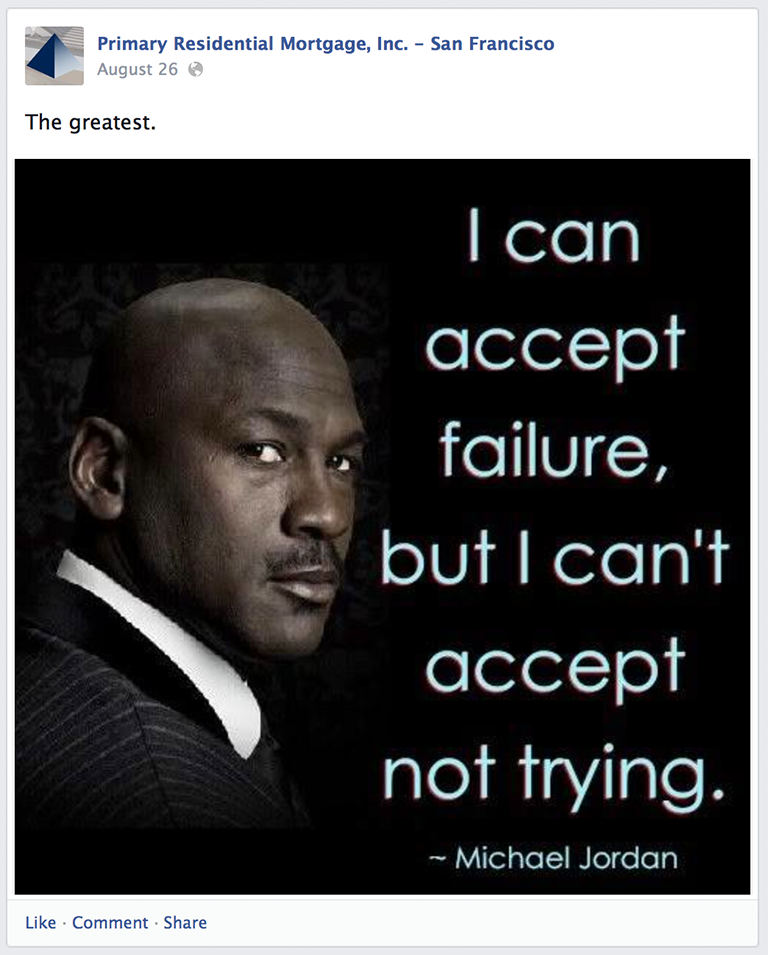 Source: Primary Residential Mortgage, Inc. – San Francisco, CA
10. Client Party
A client party is an exciting and fun event. Why wouldn't you showcase such an event on social media?! It not only gives your past clients a little face time on your profile, it also shows potential clients that you really do care.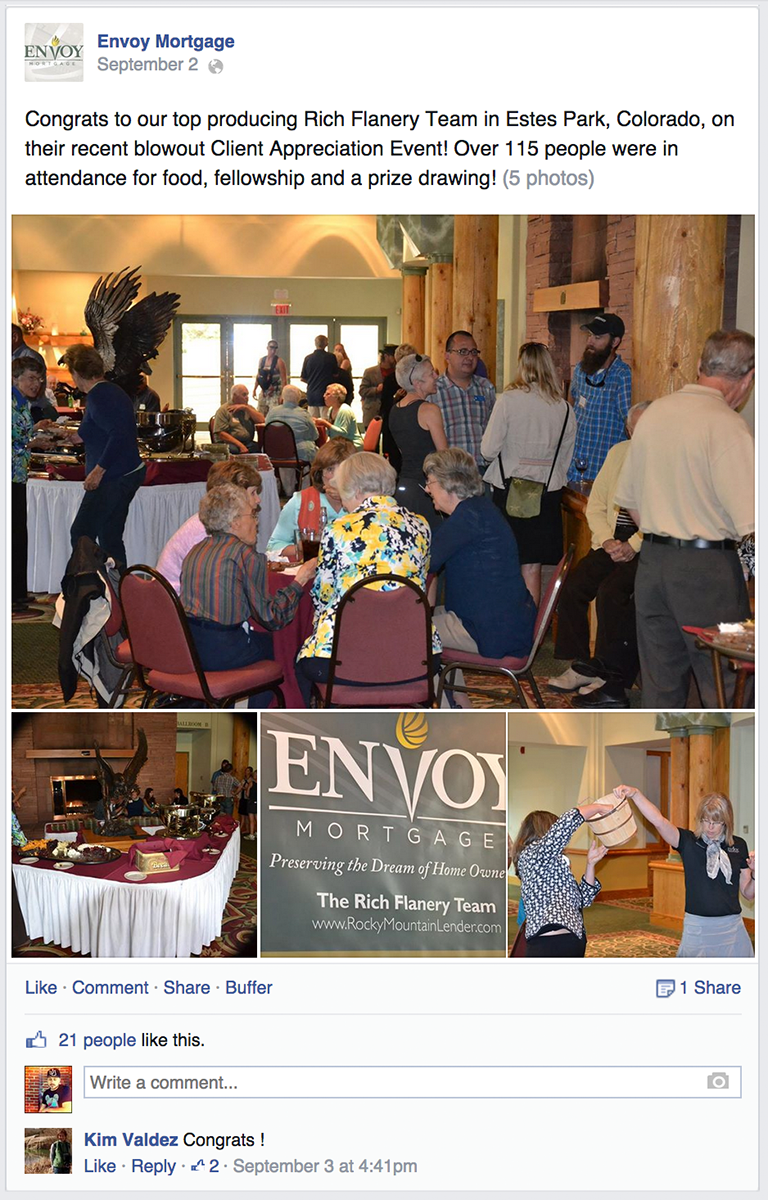 Source: Envoy Mortgage
[callout_box icon="fa-cloud-download"]
Want Some BONUS Materials?!?
Get a list of tips to make each one of the post ideas we mention a winner every time!
[popup_button trigger="mortgage-social-media-ideas-popup"]GET THE BONUS LIST![/popup_button]
[/callout_box]
11. Company Charity Event
It's so important to give back to charity. Companies of all shapes and sizes should give back to their community when they can. Company Charity Event posts are an excellent way to showcase the good your company does.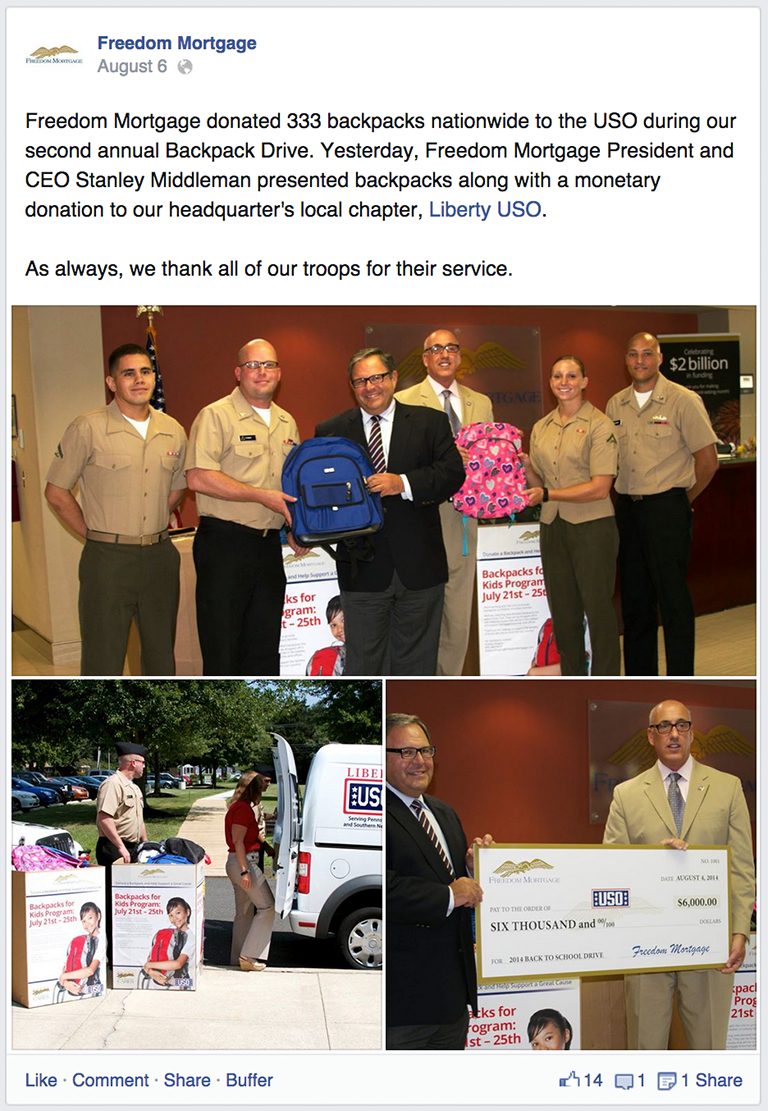 Source: Freedom Mortgage
12. Top Producers Spotlight
Happy employees make for happy borrowers. Show you're proud of your employees' successes by highlighting top producers in your company.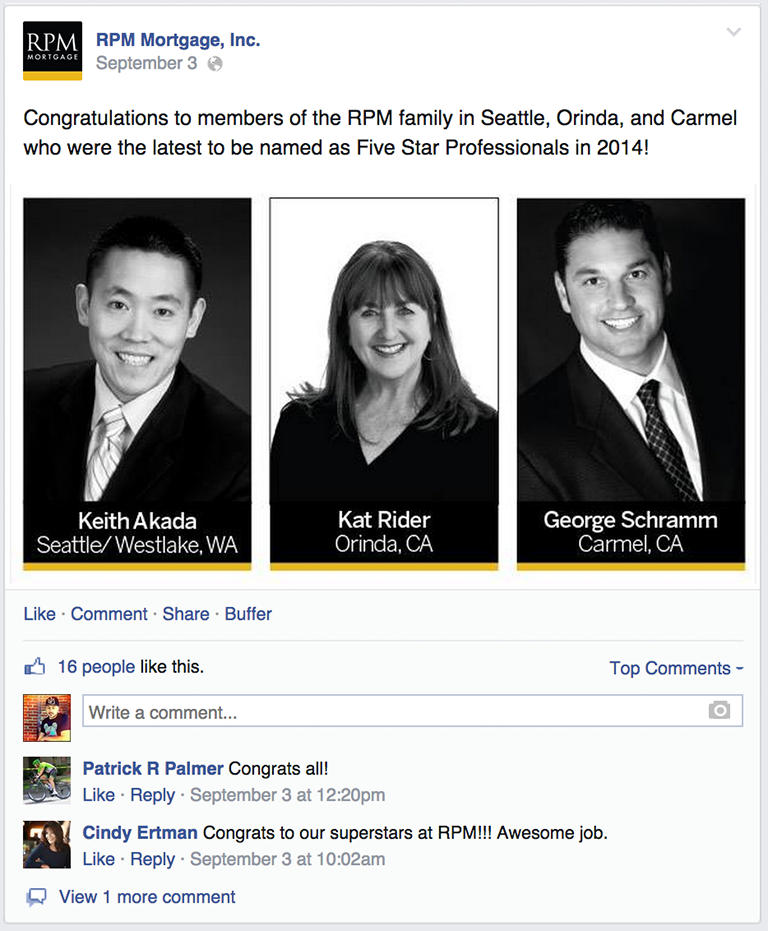 Source: RPM Mortgage, Inc.
13. Company Milestones / Rankings
People love to share in the success of others. This pertains to individuals as well as companies. Share your company's growth and accolades. Give your past clients another reason to recommend you and your potential clients another reason to use you.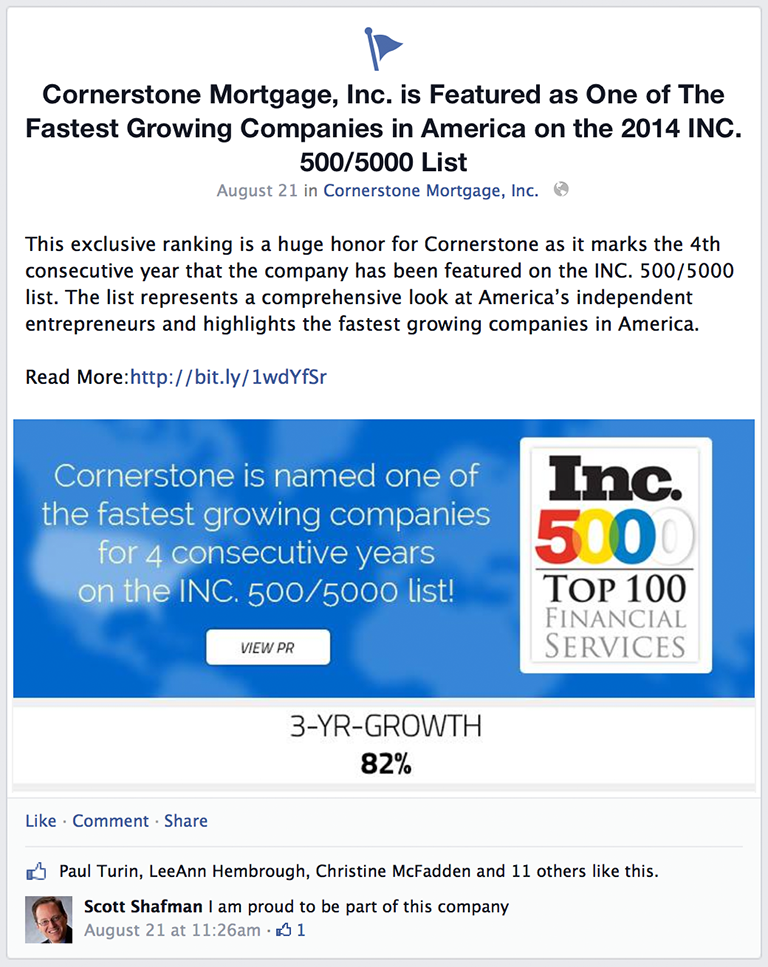 Source: Cornerstone Mortgage
14. Company in the News
If you're a company who's in the news a lot, you may want to cherry-pick the best topics, but posting about your company in the news helps with brand notariety and trust.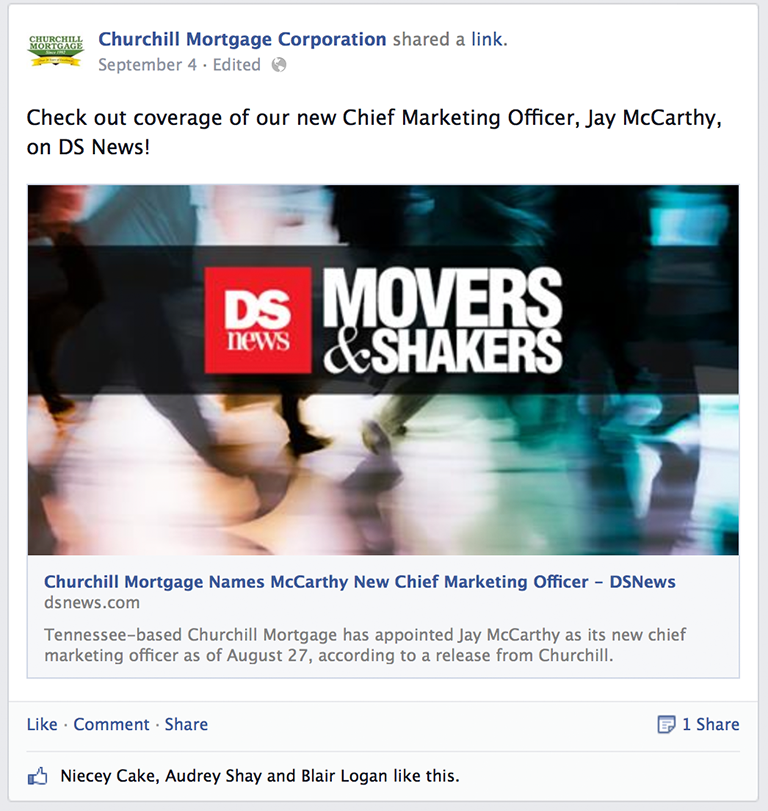 Source: Churchill Mortgage Corporation
15. Market Statistics
People like stats. Nerds LOVE stats. So give people and nerds a little love and share some market statistics with them. (Not to say that nerds aren't people. We are.)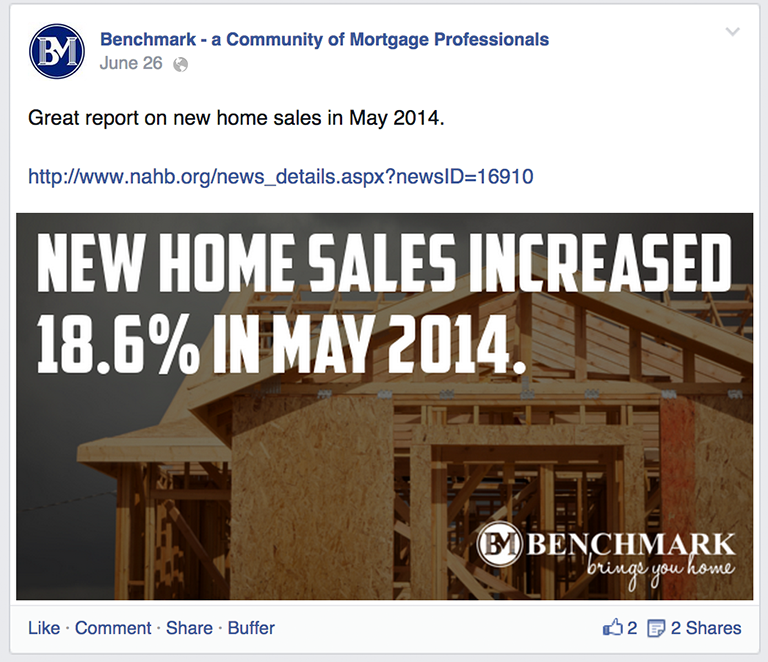 Source: Benchmark – a Community of Mortgage Professionals
16. This or That?
It's important to keep your audience engaged with your profile. After all, engagement is what drives increased likes, comments, and shares, as more people see your posts. Asking your audience a polarizing question about two different styles is a great way to get them to engage with your content.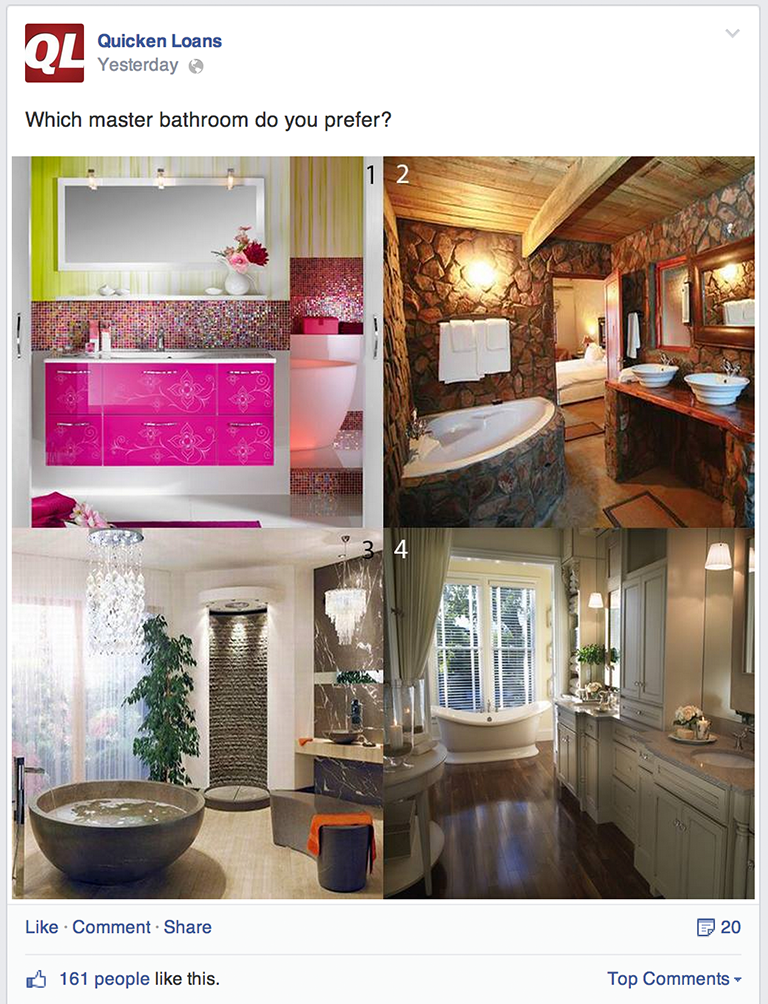 Source: Quicken Loans
17. Free Giveaway
People love free stuff. They love it. I mean, duh. Give away free stuff to your social media fans and followers. Make sure you're following each site's rules for contests and promotions, though! You don't want to get banned!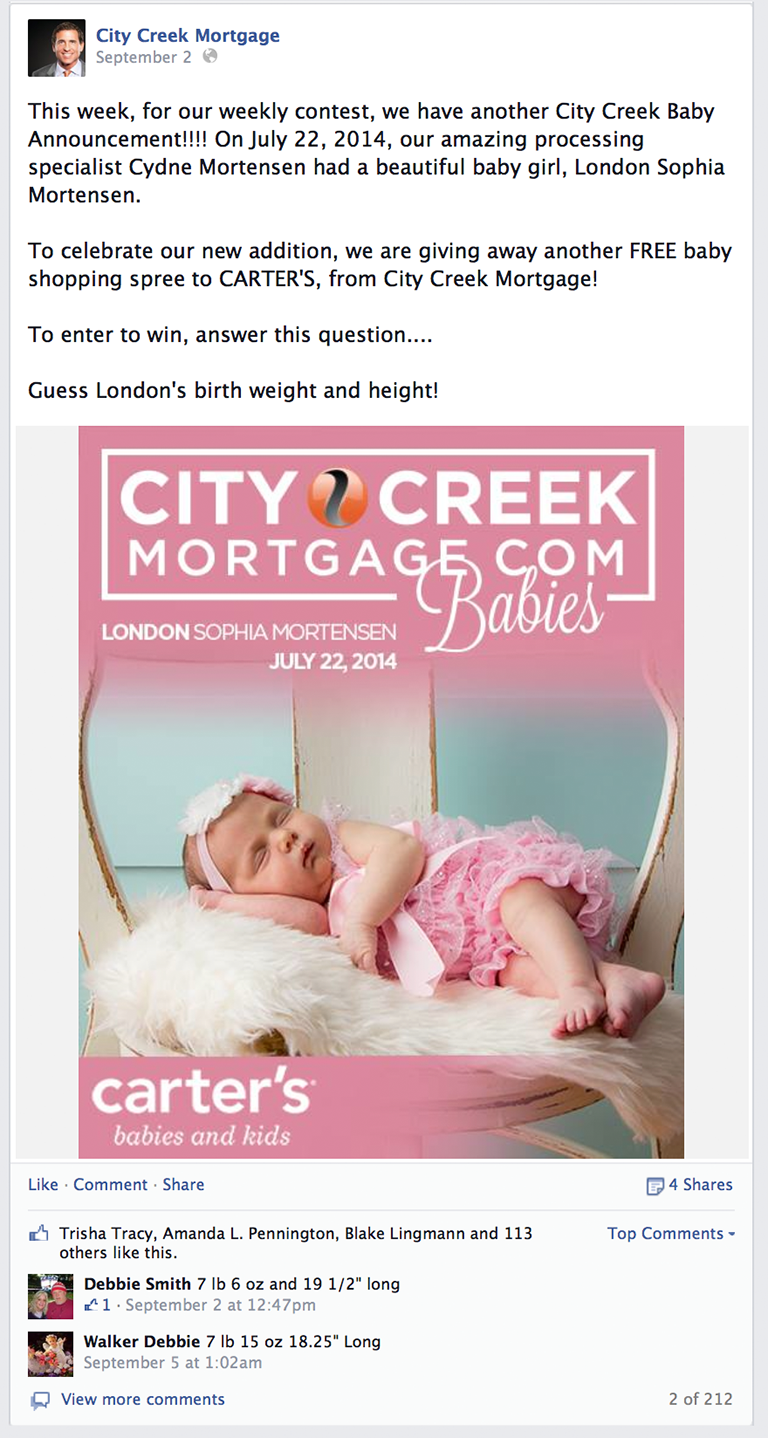 Source: City Creek Mortgage
18. Business Owner Spotlight
Business partners can be the lifeblood of any business. They can not only be an immense source of referrals, they often are your biggest supporters. Be supportive of local business owners in your database or local market area by showcasing them on social media. They'll likely remember this little gesture for years to come.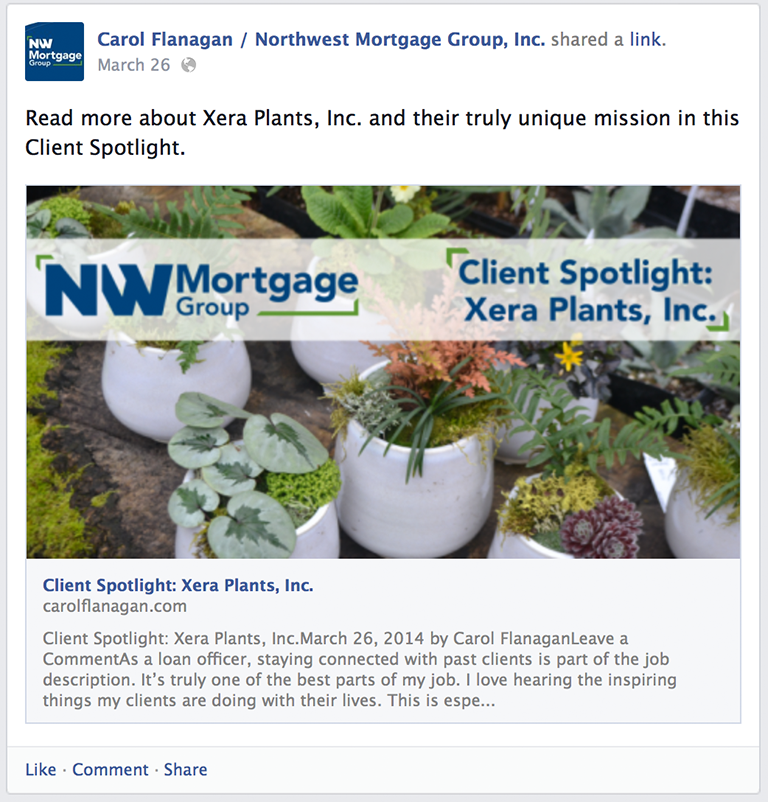 Source: Carol Flanagan / Northwest Mortgage Group, Inc.
19. Personal Accomplishment
Your great employees are doing amazing things every day in their personal lives. Nothing humanizes a brand more than real people in your company doing real things. Adding personal accomplishment posts to your social media plan also shows your employees you care about them beyond work.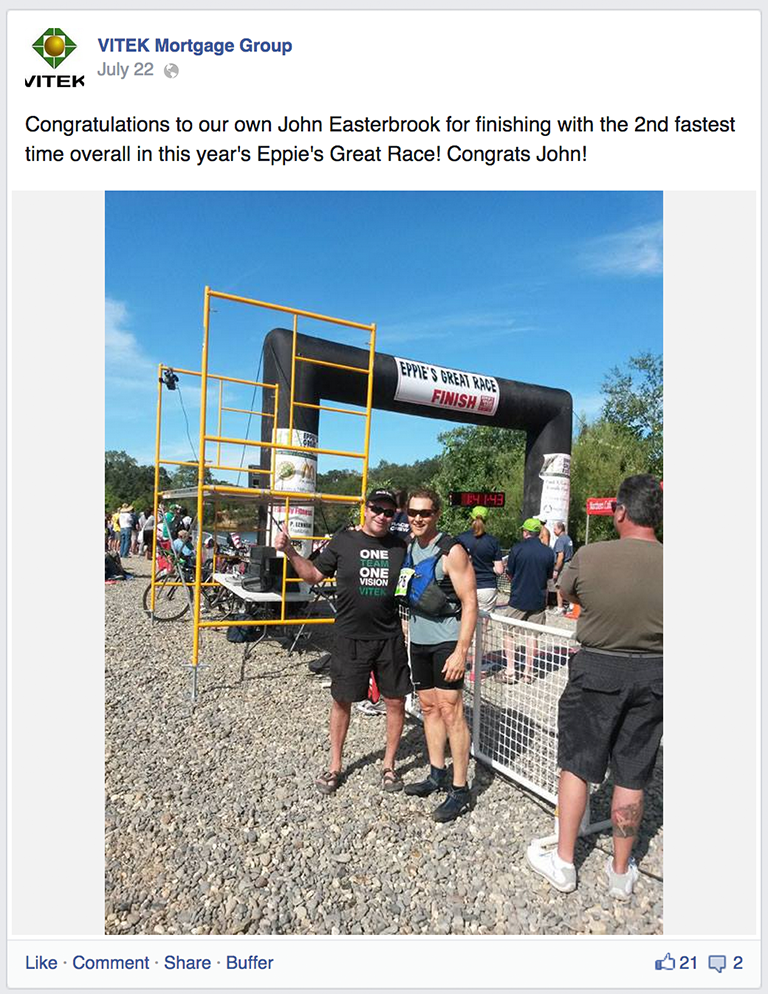 Source: VITEK Mortgage Group
20. Blog Post
It's important to cross-promote any and all online marketing efforts as much as possible. It almost goes without saying—but we'll say it anyway—that you should always share your company's blog posts on all social media accounts. We could talk forever about mortgage blog content tips and tricks, so we'll just give you a few right here and follow up with a post in the near future!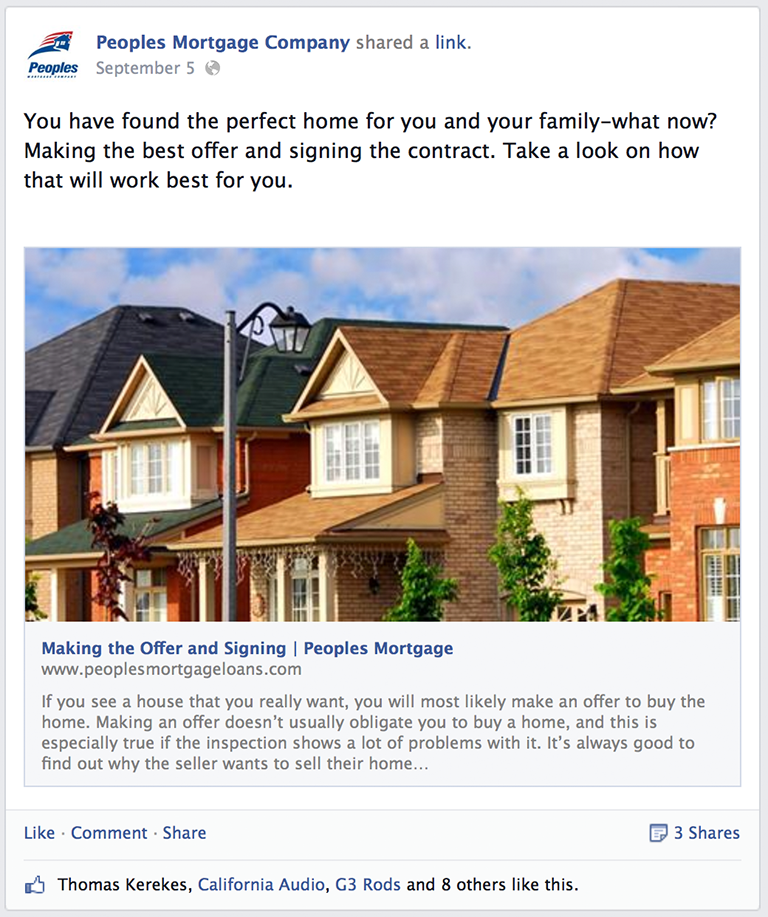 Source: Peoples Mortgage Company
[callout_box icon="fa-cloud-download"]
Want Some BONUS Materials?!?
Get a list of tips to make each one of the post ideas we mention a winner every time!
[popup_button trigger="mortgage-social-media-ideas-popup"]GET THE BONUS LIST![/popup_button]
[/callout_box]
21. Holiday Message
The Holiday Message post is one that most companies actually remember to do, even if it's the only one. That being said, there is a lot of room for improvement in the area of Holiday Message posts. Read and re-read our tips below on this one.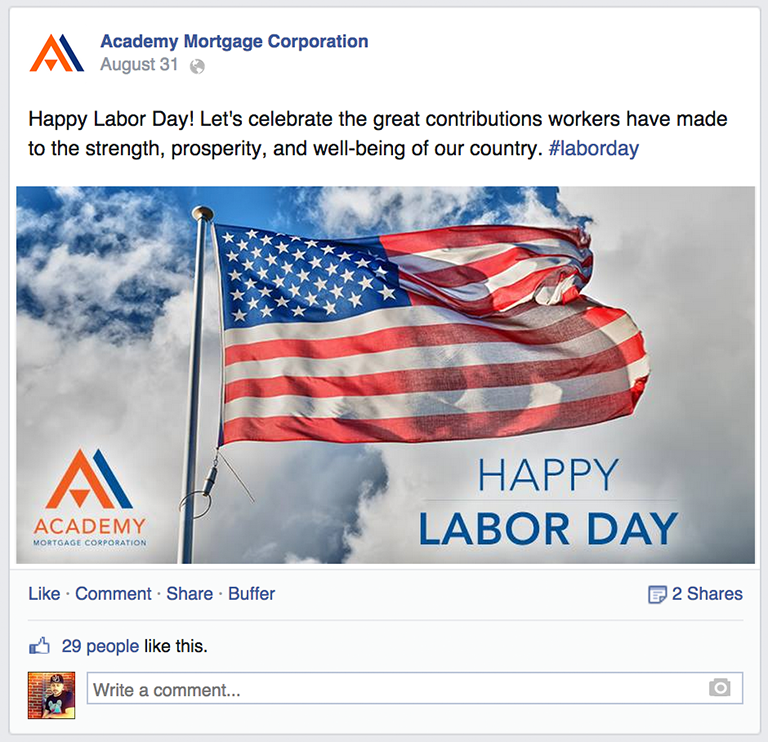 Source: Academy Mortgage Corporation
22. Sponsorship Opportunity
Sponsoring a golf tournament? How about a local baseball team? Show your sponsorship pride on your social media profiles.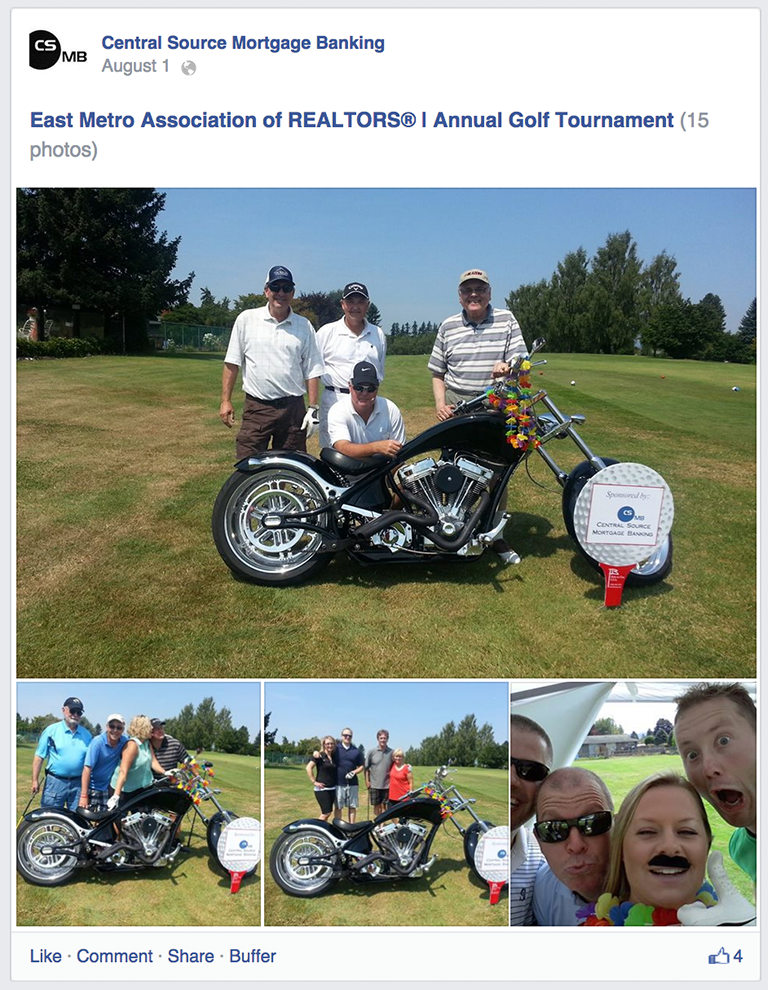 Source: Central Source Mortgage Banking
23. Life Event
I've mentioned it before, but people love sharing in the celebration of major milestones. Let your fans and followers help spread the love for employee birthdays, newborn babies, weddings, etc.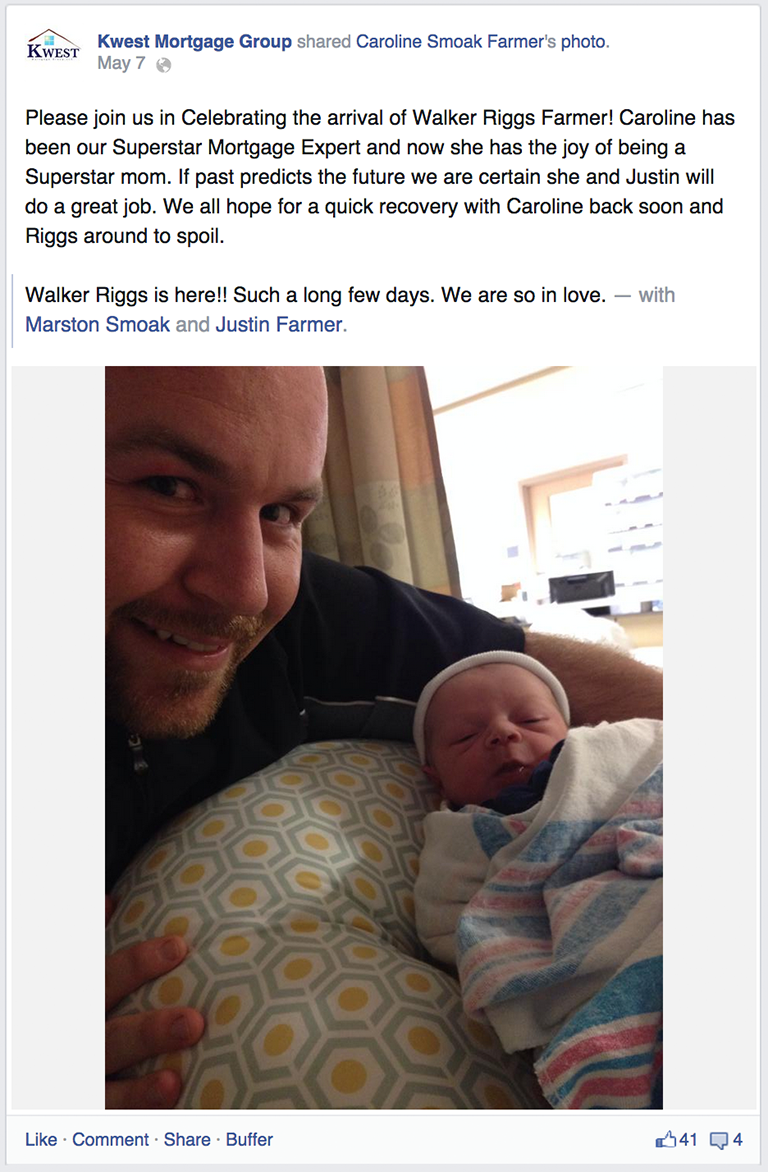 Source: Kwest Mortgage Group
24. Job Posting
Often the best referrals for new employees come from people you already know. Crowdsource your next employee using social media to announce your job posting.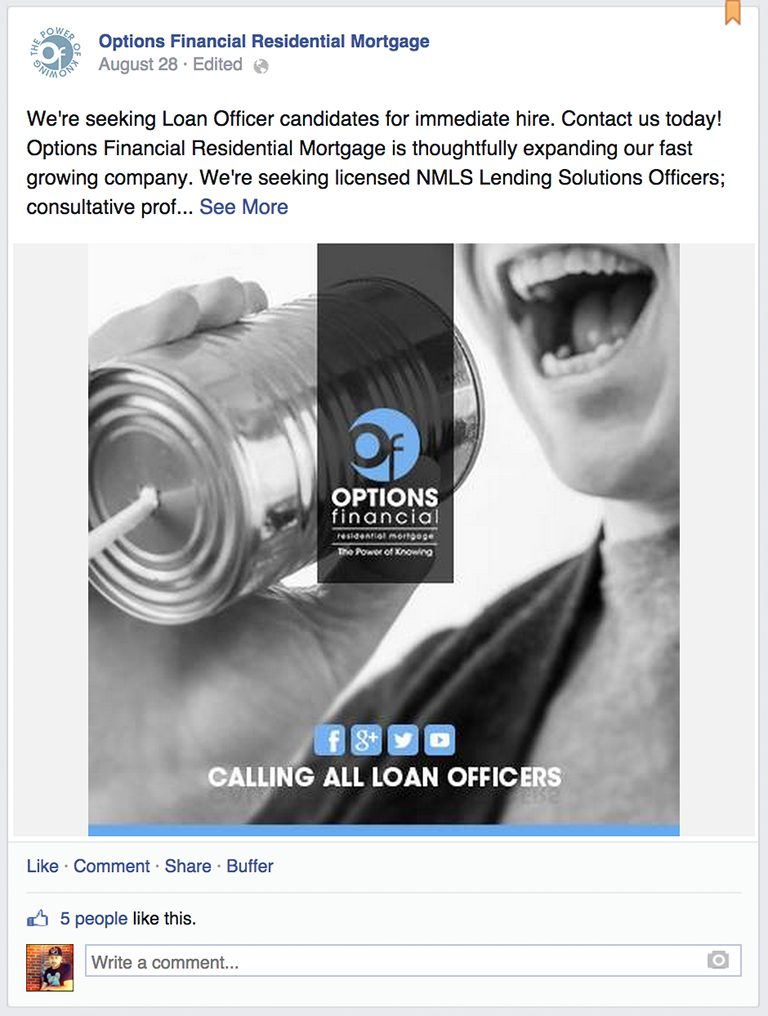 Source: Options Financial Residential Mortgage
25. Question Post
We've mentioned engagement posts before, and a perfect example of such is the simple question post. You just ask a simple question. (One good enough to warrant a response of course.)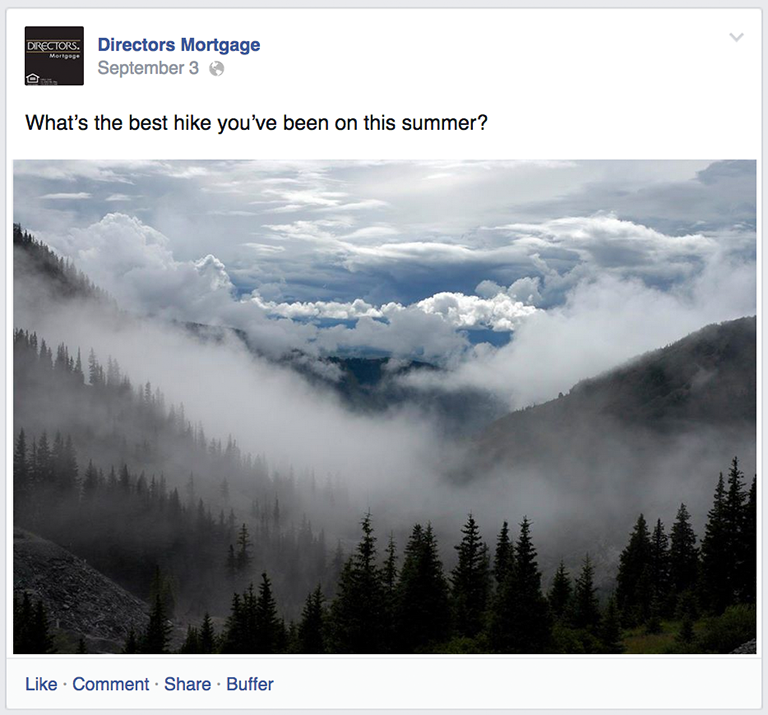 Source: Directors Mortgage
26. Fun Fact
The Fun Fact post is a good post to try and get your audience to like and share. There has been a great thirst for knowledge on the web, especially recently, and the Fun Fact post gives you an opportunity to tap into that thirst while also spreading a little knowledge around.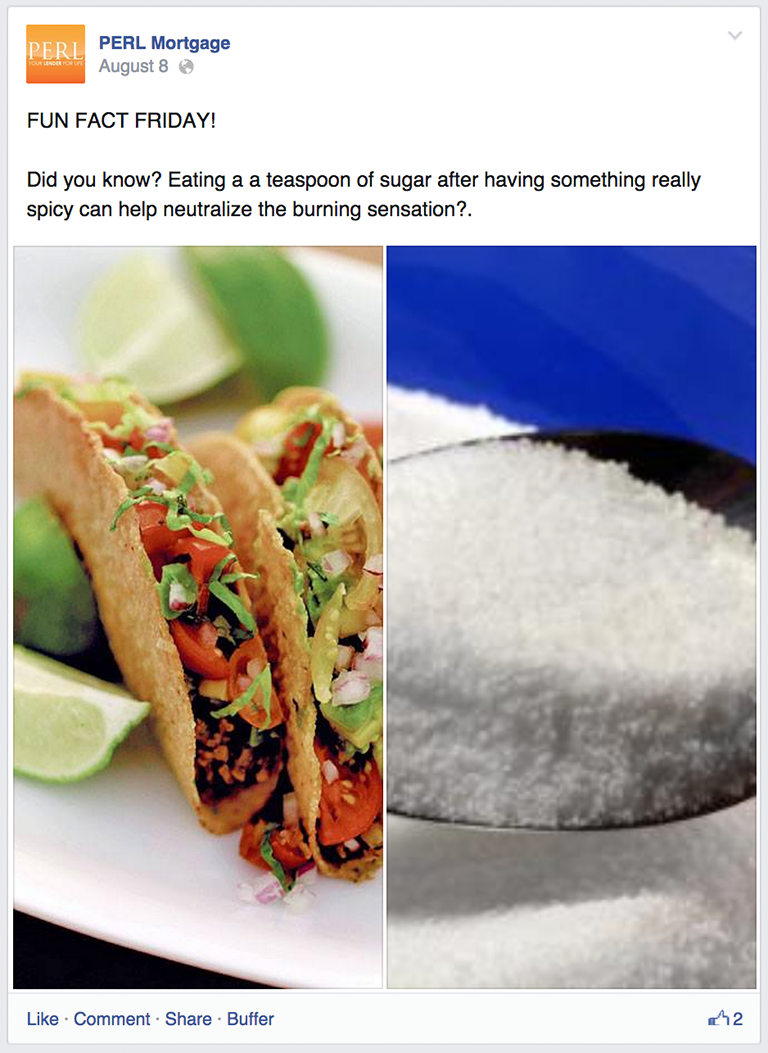 Source: PERL Mortgage
27. Company Event
We said it earlier and we'll say it again: happy employees make happy borrowers. Show your past and potential clients that your employees enjoy where they work. Anything that gets employees involved on social media will help ensure your content gets spread as far as possible.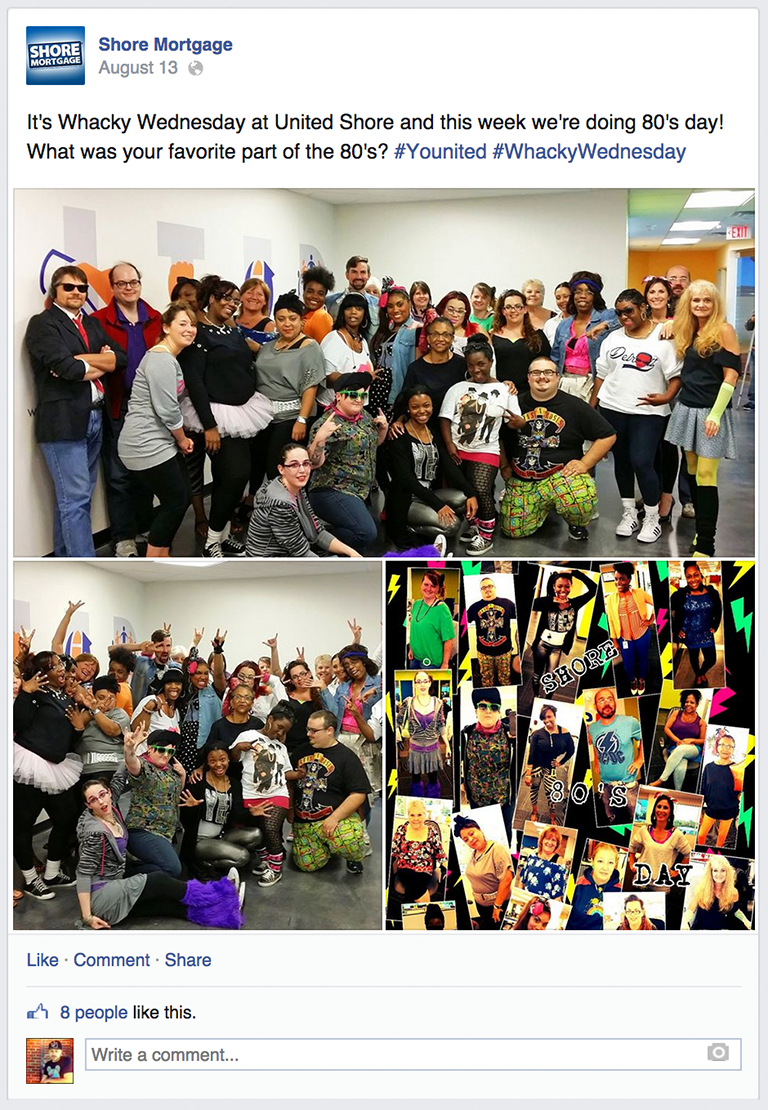 Source: Shore Mortgage
28. National Day
The National Day is not quite a holiday, but is a day celebrated by lovers of all types of things: donuts, pizza, dogs, secretaries. Find the things important to your fans and followers and share in their love of the every day.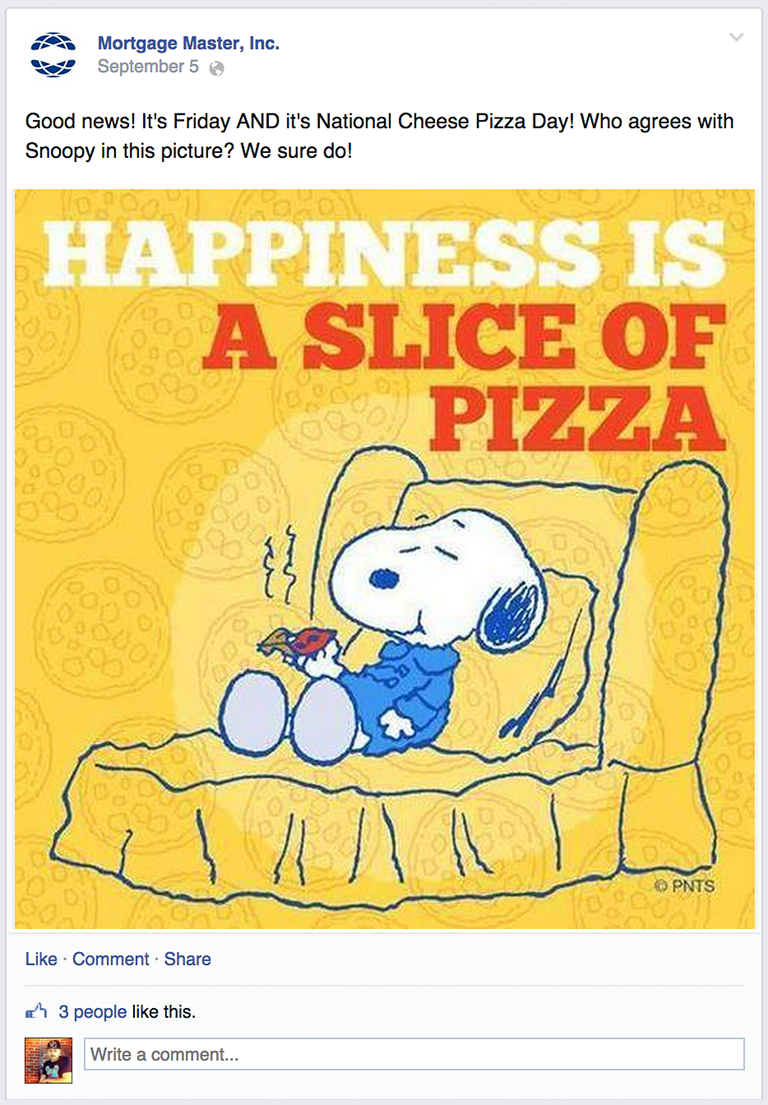 Source: Mortgage Master, Inc.
29. Share Offline Marketing
Another great idea to help cross-promote your other marketing efforts, except this post type is about finding and sharing offline marketing.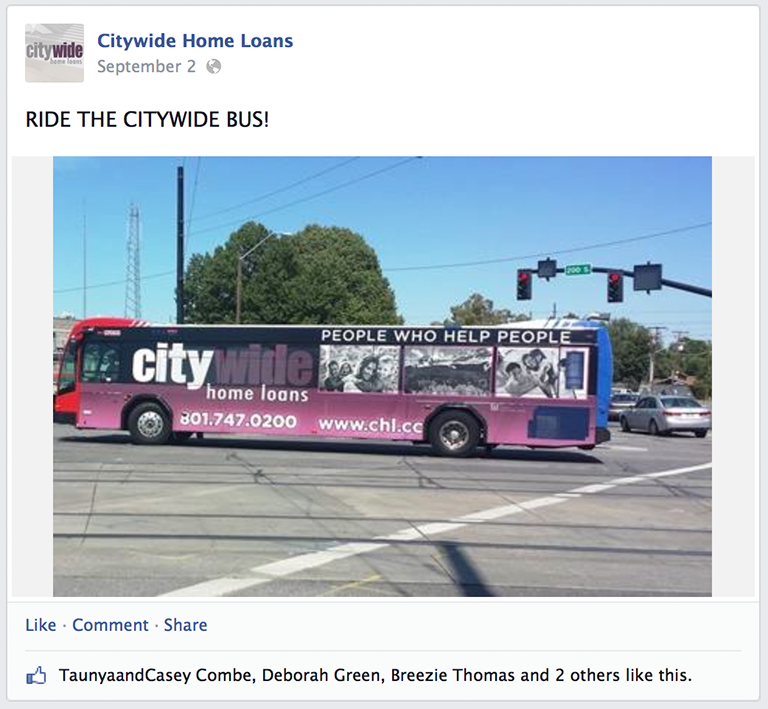 Source: Citywide Home Loans
30. Realtor Listing Spotlight
Help your referral partners grow their business by showcasing their listings.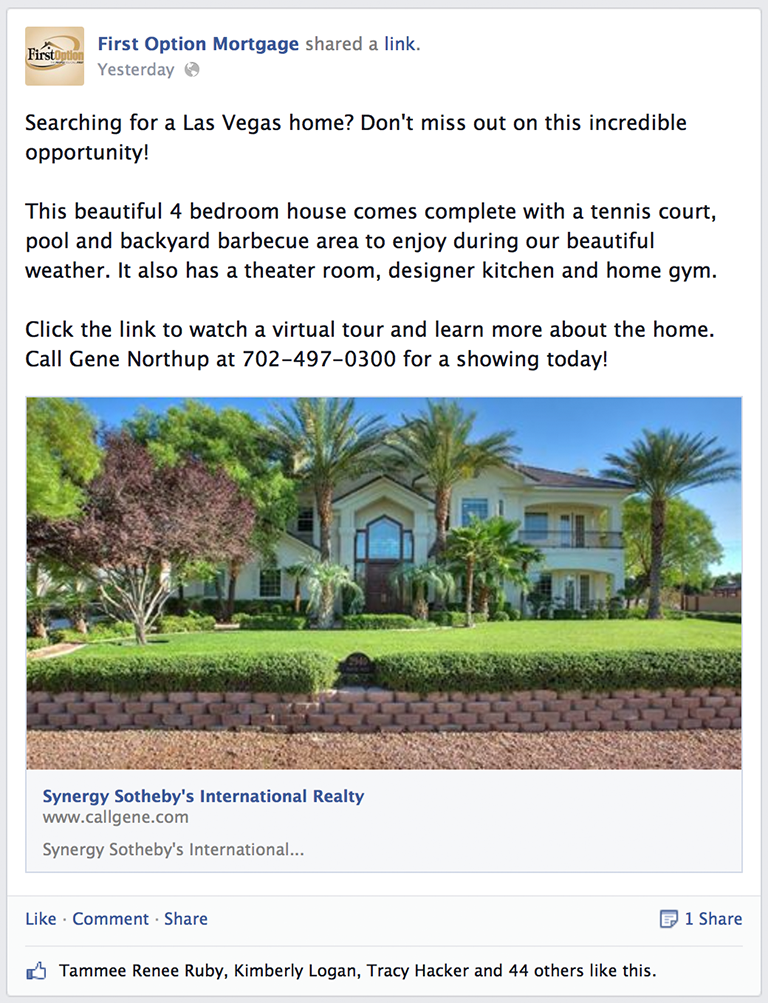 Source: First Option Mortgage
31. Past Client Remodel Project
If you have a past client who's completed a gorgeous remodel on a house you helped finance, bring over a house re-warming gift and snap some great photos of the space.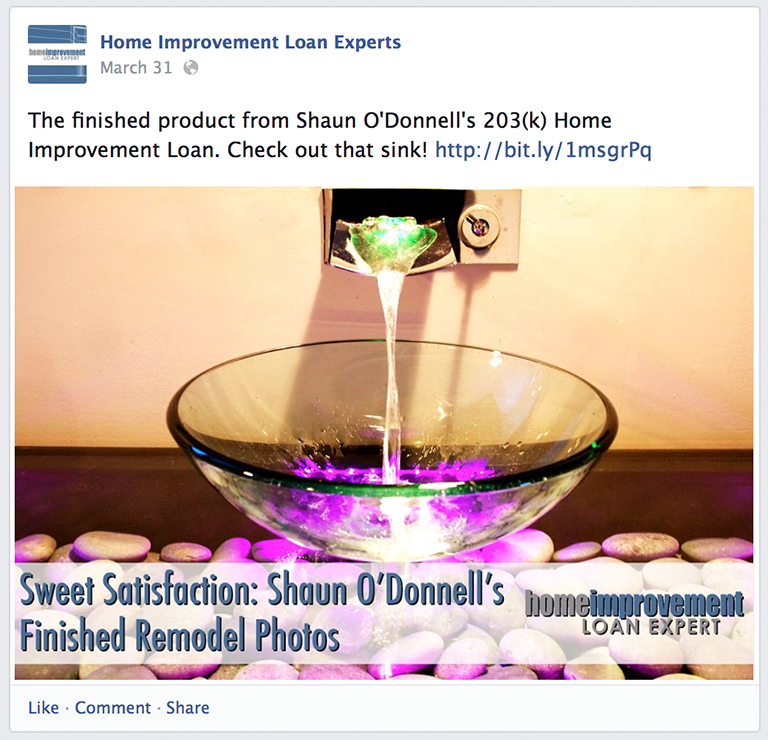 Source: Home Improvement Loan Experts
Other Mortgage Social Media Post Ideas
I couldn't find active examples for the rest of my post ideas. That being said, I think all of these ideas would be a slam dunk for your mortgage social media efforts. And, since they seem to be elusive, you'd even look like a pioneer in your field!
32. Work Anniversary
Celebrate your employees' time with your company by congratulating them on their work anniversary.
33. First Client Meeting
Snatch a photo of you with your clients at your first meeting together. Engaging your clients in your social media from the beginning of the transaction will help them stay involved once the transaction is over.
34. Client Savings Spotlight
If you helped a client save money on their refinance or saved them a bunch over a competitor on a quote, wouldn't you want to shout that out to the world? Make sure you include specific numbers and examples of the savings.
35. Local Real Estate News
For local real estate news, it's not that we couldn't find any examples, we just couldn't find many good ones. Sharing local real estate news is great; make sure you're lending a fresh perspective on it, not just syndicating something that's already been shared.
36. Most Expensive Market Listing
Everyone loves to see "how the other half lives". Give your fans and followers a sneak peek into your local market's most expensive listings. Partner with a Realtor to present the information. Who knows, you may have a jumbo loan in your near future.
37. Referral Partner Spotlight
There are few things that show your referral partners you care like helping them grow their business. Share a personal experience you've had with your referral partner to strengthen the recommendation.
[callout_box icon="fa-cloud-download"]
Want Some BONUS Materials?!?
Get a list of tips to make each one of the post ideas we mention a winner every time!
[popup_button trigger="mortgage-social-media-ideas-popup"]GET THE BONUS LIST![/popup_button]
[/callout_box]