Are you missing out on the next big mortgage marketing trend? The digital world changes so quickly, it's easy to miss out on what's new and hot. We've rounded up what we think are the hottest mortgage marketing trends of 2018.
1. Chatbots
Everyone is talking about chatbots right now. A chatbot is an automated program that can have a basic conversation with your potential clients.
If you have a chatbot that can instantly respond to someone's interest, you're much more likely to get that lead. If people are wanting to talk to you, it's best to talk to them right away (within 5 minutes).
A recent study discovered that "9 out of 10 consumers . . . want to message with brands." In fact, this study notes that messaging is the most popular way for people to communicate worldwide.
2. Video
Video, video, video—it's one of those mortgage marketing trends that's become so important it's no longer a trend—it's a fact of mortgage marketing life.
Some platforms, like Facebook, prioritize video over all other kinds of posts. One Facebook executive even predicted that its platform would be all video in five years. Buffer performed a test and found that video gets twice as much reach and engagement as any other post type.
Video is so impactful because it shows people your human side. If you want some tips for making your videos better, check out our blog post for some easy-to-implement ideas.
3. Personalized Marketing
Personalized marketing is getting more and more sophisticated, and it's quickly becoming the standard.
People want to feel like they're being spoken to individually because it makes them feel like they matter. And it shows. For instance, personalizing an email boosts open rates by 26%!
An important part of personalization is knowing who you're talking to. Segmenting your database into groups of similar people is a smart idea because it means you can market to them individually, sending them the info they'll find most useful.
For instance, if you have your database separated into renters (who might want info about a new down payment assistance program) and closed clients (who might want info about refinancing), you'll send them completely different information. If you're not going to do that, you should only be sending information that appeals to both types of clients (which severely limits what you can email).
4. Storytelling
One of the best ways to humanize your brand is to tell a story. Humanizing your brand is important because people are much more inclined to work with people they know, like, and trust.
Why is storytelling so powerful? People remember stories, even when they forget names and faces. When you use storytelling to help people connect to the benefits of the products you offer, you'll be the one they come to when they need a loan.
Here's a great example of a loan officer who's added storytelling to her brand.
5. Niche Marketing
If you try to market to everyone, you'll please no one. That's something our team talks about a lot, and it's the truth. This is why you need to choose a niche.­
If you specialize in doing VA loans, it's easy to market yourself as the VA loan guru. If you needed a VA loan and knew someone who specialized in them, you'd choose that person over someone who doesn't, right? Choosing a niche strengthens your marketing and makes it easier for you to get referrals, period.
6. Retargeting Ads
If you're doing ads on social media, it's a great idea to re-target people who have already had some interaction with you. These might be people who have already seen an ad, who have gone to your website, or who are signed up on your email list.
After people have been to your website and are familiar with you, marketing to them will be more effective. If you know people have been to your website to visit your blog post about refinancing, you can re-target them with an ad that encourages them to fill out a lead form so you can follow up with them.
7. Interactive Content
Another fun mortgage marketing trend is interactive content. It's so effective because it's the beginning of a conversation with your audience.
You can do things like quizzes and surveys, which people usually love to fill out (if they're fun). Contests are another type of interactive content that have been around for a long time.
If you really wanted to up your mortgage marketing game, you could even do something like a like a live Q&A. (This could be easily done on Facebook with their live video feature.)
Oh, and unsurprisingly, interactive content blows passive content away. (For a good example, look at incredibly successful Share a Coke campaign.)
8. Lead Magnets
Want to grow your database? One way to do that is to exchange a free item for someone's contact information. This lets you market to people until they're ready to transact.
In the past, we've helped clients create downloads about 203(k) loans, VA loans, and even winterizing your home. There are plenty of other things you can offer, depending on your audience. If you need some ideas, send us an email and we'll be happy to help.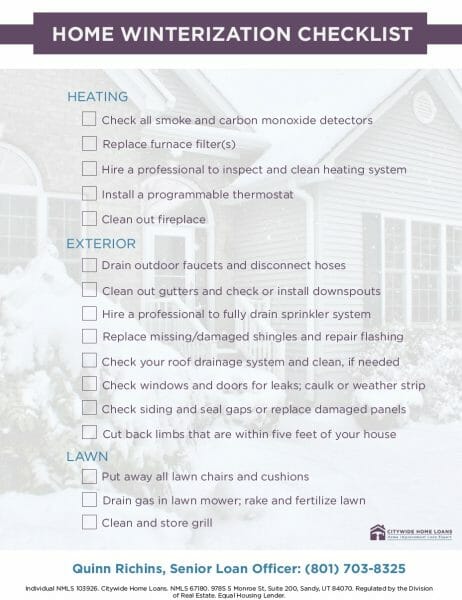 9. Cross-Channel Marketing
Digital marketing shouldn't exist in a vacuum. Your digital marketing efforts should complement and harmonize with your offline marketing efforts because then everything you do goes further. The more collaboration, the better.
If you use direct mail, you should also send people to your website. For instance, if you send a postcard about home winterization, you can send them to your website where they can see tutorials and download a checklist.
If you need more help with this topic, we wrote an entire article about marrying your online and offline marketing here.

10. Advanced Behavior Tracking
The more you track the behavior of the people who are interacting with you and your business, the more you know how to help them.
Both CRMs and websites are getting more and more effective at tracking the people who engage with your marketing. This helps you see what's working and what's not and adjust your marketing accordingly. Paying attention to behavior helps you be sure that everything you're doing is something that actually works.
Mortgage Marketing Trends
If you have any questions about what you should be doing to improve your mortgage marketing, shoot us an email or check out Sidekick, our all-in-one mortgage marketing solution. It'll mean that you never have to worry about your marketing again.